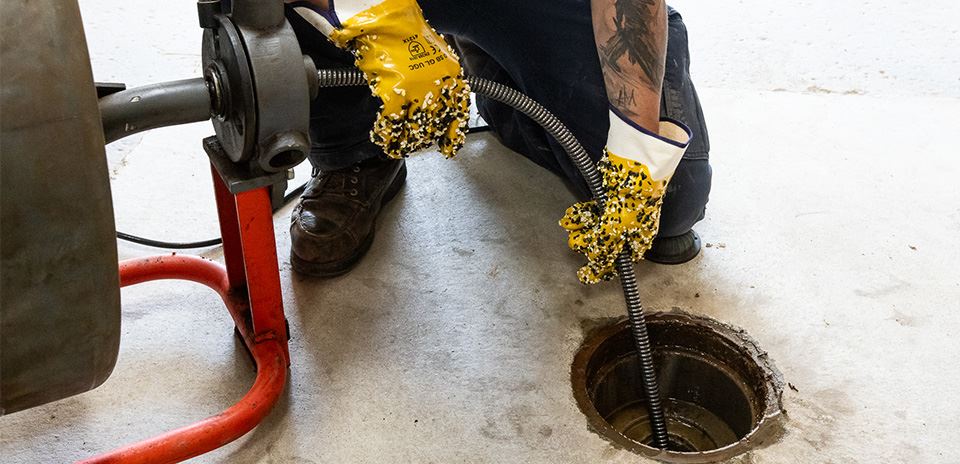 Drain Services in Omaha
Drain Experts Serving Bellevue and La Vista
Your drains play a critical role in removing waste and excess water from your property. They are susceptible to clogs, cracks, and wear over time, which can cause severe issues if not addressed through regular maintenance and cleaning. Hiring trusted professionals to regularly inspect and clean your drains is essential to keep them in top shape, ensuring smooth operation and preventing potential damages that could lead to costly repairs.
At PlumbRite, we are proud to provide exceptional and comprehensive drain services in Omaha. Our team of highly skilled and experienced plumbers utilizes advanced techniques and state-of-the-art equipment to diagnose and solve any drain-related issues efficiently. Whether it's a routine drain cleaning or a complex pipe repair, we ensure a thorough job that mitigates any risks of future problems. Beyond simply addressing the immediate concern, we also offer a comprehensive health check for your entire drainage system to identify any potential issues that might escalate over time. Our prompt, professional, and affordable service, combined with a commitment to customer satisfaction, make our experts your ideal choice for maintaining the health and longevity of your home's drainage system.
We offer 24/7 emergency service and a satisfaction guarantee, so call (402) 623-6802 or contact us online whenever you need professional help with your drains!
The Importance of Regular Drain Cleaning
Regular drain cleaning is a crucial aspect of home maintenance that should not be overlooked. Over time, everyday debris such as food residues, hair, grease, and mineral build-up can accumulate in your pipes. This can lead to slow drainage, clogs, foul odors, or even severe pipe damage. Regular drain cleaning helps to clear these accumulations before these symptoms appear, ensuring your drains remain free-flowing and fully functional.
Routine drain cleaning can also aid in the early detection of potential plumbing issues. These could include cracks in the pipes, root intrusion, or deteriorating old pipes that could lead to significant problems and costly repairs if left unaddressed.
Lastly, regular drain cleaning can significantly improve the longevity of your drainage system. By ensuring that your drains are clean and clear, you can prevent undue stress on your plumbing system caused by blockages and backups. This in turn can help extend the lifespan of your pipes, saving you money in the long term by reducing the need for major repairs or pipe replacements.
How often your drains need professional cleaning will depend on several things, including the age of your home, the condition of your pipes, and the usage habits of your household. We usually recommend annual drain cleaning, though older homes or homes with a history of plumbing issues may require more frequent cleanings.
Expert Drain Cleaning Services
Our drain services in Omaha include professional cleaning and maintenance tailored to your specific needs. We generally start with an in-depth examination of your drainage system. We utilize the latest technology, such as video inspection tools, to get a clear view of the interior of your pipes. This allows us to accurately diagnose problems and determine the most effective solutions. Whether the issue is a simple clog or a complex root intrusion, our team is equipped to handle it.
We utilize a variety of advanced techniques for drain cleaning. Hydro jetting, for instance, is a method where high-pressure water is used to blast through blockages and clean the interior walls of the pipes efficiently. This method is exceptionally effective at removing stubborn clogs and buildups. For more severe issues, such as root intrusions or significant blockages, we use specialized cutting tools to safely and effectively remove the obstruction.
In addition to solving immediate issues, our drain cleaning services are designed to prevent future problems. Our thorough cleaning process not only removes blockages but also clears away the build-up that can lead to future clogs. By maintaining clean and clear pipes, you can avoid the stress and cost of unexpected plumbing emergencies.
Remember, our services are affordable, and you will never be hit with surprise fees. You can trust our cost-effective drain services in Omaha to help you keep your drainage system in great condition.
How Do I Know When My Drains Need Immediate Cleaning or Repairs?
Sticking to a regular cleaning and maintenance schedule will help you avoid most drainage issues. However, certain signs signal the need for an immediate visit from our experts, even if your drains were recently cleaned or are scheduled to be cleaned in a month or two. Some problems can happen unexpectedly or could be caused by some other issue with your plumbing system.
Do not put off requesting service from our drainage experts if you notice any of the following problems:
Slow Drainage. One of the most common signs of a problem with your drains is slow water drainage. This could indicate a partial blockage that, left unchecked, could develop into a full blockage.
Recurring Clogs. If you are regularly dealing with clogs, particularly in the same drain or toilet, this could signal a deeper issue in your drainage system.
Foul Odors. Persistent bad odors emanating from your drains could be a sign of a blockage or a problem in the sewer line.
Multiple Clogged Drains. If more than one drain in your home is clogged or running slowly, this could indicate a blockage in your main drain system.
Water Backups. Water backing up out of a drain or toilet is a definite sign of a blockage and may require professional repair.
Flooding. If there's flooding in your basement, particularly around a floor drain, it might be due to a blocked or broken sewer line.
Gurgling Noises. Unusual noises from your drains, toilets, or pipes when water is running could indicate a drainage problem.
Water Stains Underneath Sinks. This could suggest a leak in your drain pipe.
Changes in Lawn Appearance. If you notice patches of greener grass or wet areas in your yard, it could be due to a leak in your sewer line.
If you observe any of these warning signs, contact our team immediately. We provide prompt, reliable repair service to assess and address your drain problems, helping you maintain the integrity of your home's plumbing system.
Need New Drains? We Do Installations!
There are several common scenarios when you might need to consider installing new drains in your home. For instance, if your home is older with original plumbing, the pipes may have deteriorated over time and can become prone to leaks, breaks, or blockages. Regular repair work in such cases may be less cost-effective and efficient than a complete drain replacement.
Another situation that calls for new drains is when you are undertaking a home renovation or adding or remodeling a new bathroom or kitchen. This type of home improvement often necessitates extending or altering the existing drainage system to accommodate the new fixtures.
Recurring issues like persistent clogs, slow drainage, or foul odors, even after multiple professional cleanings and repairs, could indicate a systemic problem that might require a new drainage system. Finally, if there is an issue with the layout or design of your existing drains which leads to frequent blockages or poor water flow, installing new drains might be the best solution.
Whenever you need new drains installed, we have you covered. Our drain services in Omaha include expert assistance with brand-new installations as well as replacement drain systems. We exclusively use high-quality, durable materials and utilize the latest tools and techniques.
When your drains need professional attention, call (402) 623-6802 or contact us online!
When You Call, You Can Expect To Receive:
Quick Response & Service

PlumbRite's 24/7 service allows for jobs to be completed quickly and efficiently, anytime, anywhere, and every day!

Upfront & Affordable Pricing

PlumbRite's service is always of the highest quality. But that doesn't mean we are the highest priced in the industry. We understand how frustrating it is to have a plumbing problem, so we want your wallet to be happy after we fix your issue!

Trusted Work That's Done Right

PlumbRite always does the job up to code and with perfect accuracy. We even have plumbers on staff that teach at vocational schools! This shows the pride we take in the work and making sure everything is done to the correct specifications!
Hear From Our Happy Customers
"Trust is big when it comes to plumbing. That's why we make it a point to be on time, explain repairs in detail, and have the utmost respect for our customers."
- Matt, Owner of PlumbRite
"Cody from Plumbrite was SO exceptional!"

Cody from Plumbrite was SO exceptional! He was able to come out tonight promptly for a clogged toilet. I was so impressed with his professionalism and friendly demeanor. Cody was able to fix the problem quickly. I would highly recommend Cody and PlumbRite.

- Lise R.

"I will recommend PlumbRite to my people! Thank you!!!"

Logan and Jeremy were fantastic! They provided excellent communication, service, all my questions, including looking all over town for 1 tiny part! I appreciate the high level of service received. I will recommend PlumbRite to my people! Thank you!!!

- Megan J.

"Friendly, kind, understanding, and knowledgeable about our issues."

Logan offered incredible Customer Service. Friendly, kind, understanding, and knowledgeable about our issues. Promptly completed repairs too. Definitely look forward to him continuing to service our future home needs.

- Shelley

"They show up on time and have excellent customer service."

We had an amazing experience with the Plumbrite team. They send you a text prior to the plumber coming out with a picture of who is coming and they also call ahead. They show up on time and have excellent customer service. Cody was particularly exceptional

- Bryant M.

"Will Definitely recommend PlumbRite to anybody looking for excellent quality."

Logan and Dale were great. incredible Customer Service. Friendly and knowledgeable about what we needed to be done. They gave us options and let us know about each one. They did what had to be done in a timely manner. Will Definitely recommend PlumbRite to

- Daisy R.

"If you need a plumber call PlumbRite!!! You won't be disappointed!"

Cody is great! Would very highly recommend him! We called on a Saturday morning, after a google search and reading some reviews, with a sewer backup in our basement. They answered right away and Cody was at our house in an hour. He talks you through everyt

- Amanda D.