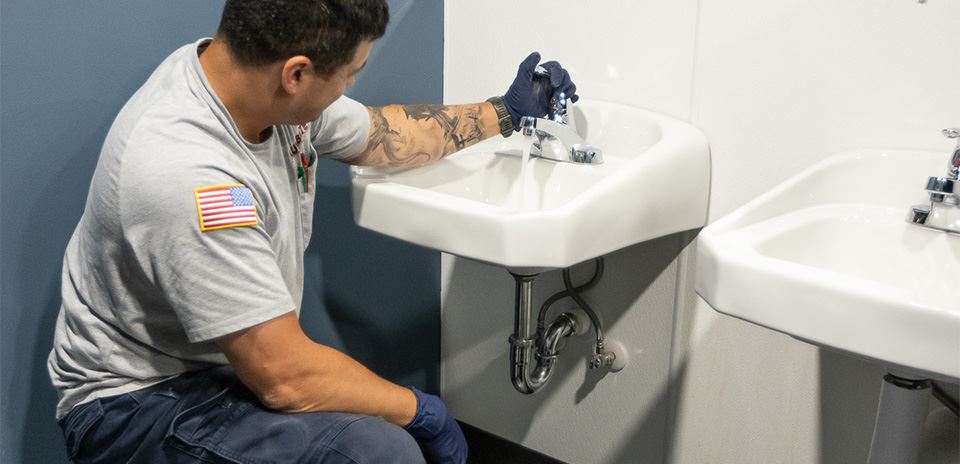 Fixture Services in Omaha
Plumbing Fixture Experts Serving Bellevue and La Vista
You may not think about them often, but your plumbing fixtures – everything from your sinks to your toilets – play an integral role in your day-to-day life. These fixtures do everything from providing clean, drinkable water to efficiently remove waste. You rely on them for cooking, cleaning, bathing, and more.
Are you dealing with leaky faucets, slow drains, or constantly running toilets? Our fixture services in Omaha can provide cost-effective solutions for all your needs. From fixture maintenance to repairs to new installations, our plumbing experts at PlumbRite do it all. We offer transparent, upfront pricing with no surprise fees, and our satisfaction guarantee means you can always count on us to get the job done right the first time.
If one of your fixtures needs immediate attention, we offer 24/7 emergency service! Contact us online or call (402) 623-6802 to request a quote today.
The Importance of Plumbing Fixture Maintenance
No one wants to deal with an unexpectedly broken sink, showerhead, or toilet. Keeping up with routine maintenance can help ensure your fixtures are working correctly and avoid disruptive inconveniences.
Regular fixture check-ups and preventive care measures also play a key role in upholding the hygiene and cleanliness of your home. Plumbing issues can lead to potential health hazards, such as water contamination or mold growth. By keeping your plumbing fixtures in good shape, you're not just protecting your home, but also prioritizing the well-being of your family.
Even better, investing in plumbing fixture maintenance can save you money in the long run. Leaky faucets, slow drains, or constantly running toilets can increase your water bill and waste precious resources. For instance, a dripping faucet may not seem like a major issue, but over time, the wasted water can add up and cause a substantial increase in your utility bills. Minor problems like leaky faucets or slow drains, if left unattended, can also escalate into major issues that require costly repairs or replacements. A minor fixture pipe leak, if not detected and repaired early, can lead to major water damage, requiring expensive home repairs.
At PlumbRite, our preventive maintenance services are designed to detect and rectify minor issues before they turn into major problems. Through regular check-ups, we ensure the optimal functioning of your plumbing fixtures, helping you avoid unexpected expenses and save money in the long term. Over time, the cost of regular maintenance is often much less than the cost of dealing with major repairs or replacements, making it a smart financial decision.
Signs Your Plumbing Fixtures Need Repairs
Certain warning signs can indicate that one or more of your plumbing fixtures need repairs. You should call our professional plumbers as soon as you see any of these red flags, as ignoring issues with your plumbing fixtures can lead to an expensive and avoidable emergency!
Do not wait to request our fixture services in Omaha if you notice any of the following warning signs:
Persistent Dripping Faucets. This is often a sign of worn-out components within the faucet. While it may seem minor, it can lead to significant water waste and an increase in your water bill over time.
Slow Drains. If your sink or bathtub takes longer than usual to drain, it might indicate a blockage in your pipes. It can lead to more severe plumbing issues if not addressed promptly.
Low Water Pressure. If you're noticing a sudden drop in water pressure, it could be an indication of a leak or blockage in your pipes.
Constantly Running Toilet. A continuously running toilet can waste a substantial amount of water and requires immediate attention. It is usually a sign of an issue within the toilet's tank.
Unpleasant Smells. Foul odors emanating from your drains could indicate a problem in your sewage system and should not be ignored.
Discolored Water. If your water looks cloudy, has an unusual color, or contains visible particles, it may be a sign of pipe corrosion or contamination.
When Should I Replace a Plumbing Fixture Instead of Repairing It?
Sometimes, replacing a malfunctioning or aging plumbing fixture makes more sense than attempting to repair it, such as when a fixture has reached the end of its useful lifespan. Most plumbing fixtures have an estimated life expectancy. Faucets, for example, typically last about 15-20 years, while some toilets can last up to 50 years with proper maintenance. Beyond these durations, the fixtures may start to degrade or fail more frequently, making replacement a more practical and cost-effective option in the long run.
Another scenario where replacement could be more beneficial is if a plumbing fixture is frequently breaking down or requiring repairs. This could be indicative of a more serious underlying problem that simply repairing the fixture will not fix. Continual repair costs can add up over time, and it might be more economical to invest in a new fixture instead.
If your fixture is outdated or inefficient, replacement may also be the better option. Newer models of plumbing fixtures often come with advanced features and improved efficiency, such as water-saving technology in faucets and toilets. Upgrading to these models can result in significant water and cost savings over time, offsetting the initial investment of the new fixture.
How you want your home to look can also influence the decision to replace a fixture. If you are renovating or redecorating your home, old and worn-out fixtures can detract from the overall appeal of your space. In these situations, replacing your fixtures with newer, more stylish ones can enhance the aesthetics of your home, adding to its value and appeal.
Our trusted technicians can help you evaluate your unique situation and help you decide whether it makes sense to replace a plumbing fixture. Our fixture services in Omaha include both repairs and replacements, and our experts are committed to providing you with the best solutions to maintain the efficiency and reliability of your plumbing system.
We Can Help with Bathroom and Kitchen Remodels!
We recognize that kitchen and bathroom renovations are substantial investments. They require careful planning, execution, and technical expertise, particularly when it comes to installing or replacing plumbing fixtures. Our team of skilled professionals is equipped to handle all aspects of plumbing fixture installations and replacements, ensuring that your renovation project is completed to your satisfaction.
We take pride in our comprehensive approach to bathroom remodels. Our services extend beyond simply swapping out old fixtures for new ones. We begin by conducting a thorough assessment of your existing bathroom plumbing system. This allows us to identify any underlying issues that may impact the installation of new fixtures. Whether it's dealing with old pipes, poor water pressure, or drainage issues, our team can address these challenges to create a solid foundation for your new fixtures.
When renovating a kitchen, the complexity of the plumbing fixture installations can escalate due to the presence of numerous water sources and appliances. Sinks, dishwashers, ice makers, and pot fillers all require careful planning and installation. Our team is proficient in installing all these components, ensuring they function seamlessly within your revamped kitchen space.
We also recognize that every homeowner has unique needs and preferences when it comes to the style, functionality, and efficiency of their plumbing fixtures. As such, we tailor our services to meet your specific needs. Whether you are looking for a high-end designer faucet for your kitchen sink, need a water-efficient toilet for your new bathroom, or are seeking modern, smart shower systems, we can guide you through the selection process and ensure these fixtures are installed perfectly.
Request our fixture services in Omaha today by calling (402) 623-6802 or contacting us online!
When You Call, You Can Expect To Receive:
Quick Response & Service

PlumbRite's 24/7 service allows for jobs to be completed quickly and efficiently, anytime, anywhere, and every day!

Upfront & Affordable Pricing

PlumbRite's service is always of the highest quality. But that doesn't mean we are the highest priced in the industry. We understand how frustrating it is to have a plumbing problem, so we want your wallet to be happy after we fix your issue!

Trusted Work That's Done Right

PlumbRite always does the job up to code and with perfect accuracy. We even have plumbers on staff that teach at vocational schools! This shows the pride we take in the work and making sure everything is done to the correct specifications!
Hear From Our Happy Customers
"Trust is big when it comes to plumbing. That's why we make it a point to be on time, explain repairs in detail, and have the utmost respect for our customers."
- Matt, Owner of PlumbRite
"Cody from Plumbrite was SO exceptional!"

Cody from Plumbrite was SO exceptional! He was able to come out tonight promptly for a clogged toilet. I was so impressed with his professionalism and friendly demeanor. Cody was able to fix the problem quickly. I would highly recommend Cody and PlumbRite.

- Lise R.

"I will recommend PlumbRite to my people! Thank you!!!"

Logan and Jeremy were fantastic! They provided excellent communication, service, all my questions, including looking all over town for 1 tiny part! I appreciate the high level of service received. I will recommend PlumbRite to my people! Thank you!!!

- Megan J.

"Friendly, kind, understanding, and knowledgeable about our issues."

Logan offered incredible Customer Service. Friendly, kind, understanding, and knowledgeable about our issues. Promptly completed repairs too. Definitely look forward to him continuing to service our future home needs.

- Shelley

"They show up on time and have excellent customer service."

We had an amazing experience with the Plumbrite team. They send you a text prior to the plumber coming out with a picture of who is coming and they also call ahead. They show up on time and have excellent customer service. Cody was particularly exceptional

- Bryant M.

"Will Definitely recommend PlumbRite to anybody looking for excellent quality."

Logan and Dale were great. incredible Customer Service. Friendly and knowledgeable about what we needed to be done. They gave us options and let us know about each one. They did what had to be done in a timely manner. Will Definitely recommend PlumbRite to

- Daisy R.

"If you need a plumber call PlumbRite!!! You won't be disappointed!"

Cody is great! Would very highly recommend him! We called on a Saturday morning, after a google search and reading some reviews, with a sewer backup in our basement. They answered right away and Cody was at our house in an hour. He talks you through everyt

- Amanda D.