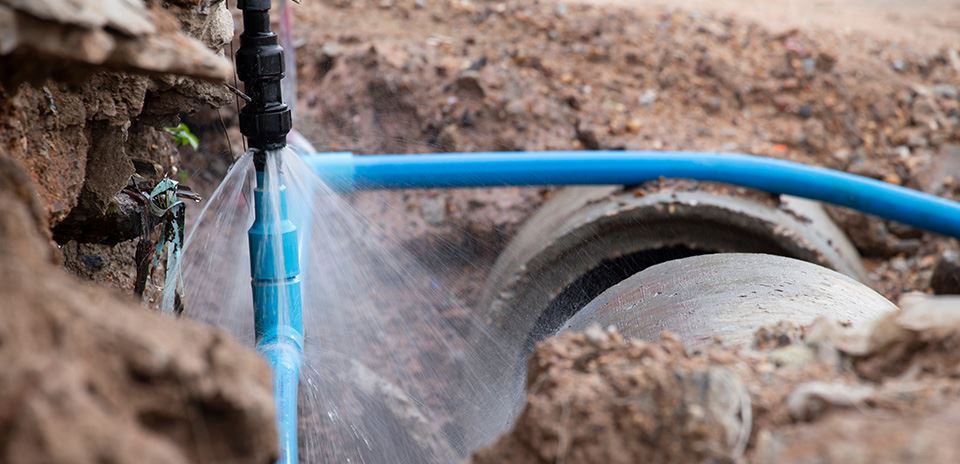 Leak Detection and Repair in Omaha
Do Not Let a Drip Turn into a Disaster!
Even the tiniest of leaks can quickly escalate into a substantial problem if not addressed promptly. These leaks, seemingly harmless at first, can lead to water damage affecting the structural integrity of your home, mold growth posing health hazards, and inflated water bills due to unnecessary water usage. That is why we always stress the importance of early leak detection and repair, ensuring your home remains safe, healthy, and cost-efficient.
When you need dependable and fast leak detection and repair in Omaha, PlumbRite has your back. We are equipped with state-of-the-art technology to detect even the most hidden leaks with precision. Our experienced team of professional plumbers is trained to handle all types of leaks, from small drips to significant water flow issues. Once we have found the source and underlying cause of the leak, we jump into action with comprehensive repair services, resolving the problem in no time. With upfront pricing and a satisfaction guarantee, you can always count on a superior level of service.
Do not wait to address a leak – our plumbers are available 24/7! Contact us online or call (402) 623-6802 to request service today.
The Importance of Addressing Leaks Early
It can be easy to underestimate the seriousness of a leak, primarily because its immediate impacts are not always visible or disruptive. Many of us view a small drip as a mere annoyance, not a pressing issue that demands immediate attention. This perception is reinforced when the leak is slow, occurring in a less frequently used area of the home, or not causing any visible damage. The absence of instantaneous, obvious damage leads to a false sense of security, encouraging procrastination in addressing the issue. It is crucial to understand that while the effects of a leak may not be immediately catastrophic, they are cumulative, and the damage escalates over time if left untreated.
A leak of any size can wreak havoc on your home in several ways if nothing is done to address it. Moisture from a leak can seep into the foundation of your home, compromising its structural integrity. This can lead to significant repair costs and even make your home unsafe to live in. Additionally, the persistent dampness caused by a leak can create a conducive environment for mold growth. This is not only unsightly but can also trigger a range of health issues, including asthma, allergies, and other respiratory conditions. Moreover, a leak can result in excessive water consumption, leading to a spike in your water bills. If the leak is in a visible area, it can also cause aesthetic damage to your home, staining walls and ceilings and devaluing your property. At PlumbRite, we understand all of these risks and are ready to work tirelessly to protect your home from the damaging effects of leaks.
Signs You Have a Hidden Leak
Hidden leaks can be a homeowner's worst nightmare. They are challenging to detect, often going unnoticed until significant damage has already been done. These leaks can occur in various places that aren't readily visible, such as behind walls, under floors, or in the underground pipes leading to your home. Because of their difficult-to-reach locations, hidden leaks can persist for a long time, slowly causing damage to your property, promoting mold growth, and wasting water. Identifying a hidden leak requires looking out for warning signs.
Turn to our experts for hidden leak detection and repair in Omaha if you notice:
An unexpected increase in water bill. One of the first signs of a hidden leak is an unexplained, significant rise in your water bill. If your water usage patterns have not changed, it could indicate a hidden leak that is causing your bill to soar.
Damp spots. If you notice mysteriously damp or discolored areas on your walls, floors, or ceilings, it may point to a hidden leak. The dampness could be due to water seeping from a leaky pipe situated behind the surface.
Musty odor. A persistent musty smell, especially in a specific area of the house, is a classic sign of a hidden leak. This odor is usually a result of dampness and potential mold growth caused by the leak.
Reduced water pressure. A drop in water pressure can hint at a hidden leak. Water may be escaping somewhere in the system before it reaches your tap.
Running water sounds. If you can hear the sound of running water when no taps are open, you may be dealing with a hidden leak somewhere in your home.
Water meter changes. If your water meter changes when you are not using water, a leak could be the culprit. You can test this by noting the meter reading, not using water for a few hours, and then checking the meter again.
How We Locate and Repair Leaks
Finding and fixing tough-to-locate leaks is what we do. When you need leak detection and repair in Omaha, our plumbers will employ cutting-edge leak detection technology that will allow us to accurately identify the source of the issue, even if it is hidden within walls or buried underground. Our experienced technicians are prepared to use a combination of acoustic listening devices, thermal imaging tools, plumbing cameras, and tracer gas detectors to pinpoint the exact location of a leak with minimal disruption to your property.
Once we have located the leak and evaluated its underlying cause, our team will walk you through the details and review options for repairing the problem. Depending on the severity and location of the leak, we may recommend a range of repair methods. For minor leaks, we often use simple sealing techniques with high-quality, waterproof materials that ensure the leak is completely and permanently sealed. For more substantial leaks, we might need to replace a section of piping. In all cases, our team prioritizes non-invasive methods to minimize disruption and ensure a quick return to your normal routine.
Preventative maintenance can help you reduce the possibility of hidden leaks. With regular inspections and maintenance, we can help you spot and address potential issues before they turn into costly leaks, offering you peace of mind and security in the knowledge that your home is safe and leak-free.
When you think you have a leak, let our plumbers take a peek. Call (402) 623-6802 or contact us online today!
When You Call, You Can Expect To Receive:
Quick Response & Service

PlumbRite's 24/7 service allows for jobs to be completed quickly and efficiently, anytime, anywhere, and every day!

Upfront & Affordable Pricing

PlumbRite's service is always of the highest quality. But that doesn't mean we are the highest priced in the industry. We understand how frustrating it is to have a plumbing problem, so we want your wallet to be happy after we fix your issue!

Trusted Work That's Done Right

PlumbRite always does the job up to code and with perfect accuracy. We even have plumbers on staff that teach at vocational schools! This shows the pride we take in the work and making sure everything is done to the correct specifications!
Hear From Our Happy Customers
"Trust is big when it comes to plumbing. That's why we make it a point to be on time, explain repairs in detail, and have the utmost respect for our customers."
- Matt, Owner of PlumbRite
"Cody from Plumbrite was SO exceptional!"

Cody from Plumbrite was SO exceptional! He was able to come out tonight promptly for a clogged toilet. I was so impressed with his professionalism and friendly demeanor. Cody was able to fix the problem quickly. I would highly recommend Cody and PlumbRite.

- Lise R.

"I will recommend PlumbRite to my people! Thank you!!!"

Logan and Jeremy were fantastic! They provided excellent communication, service, all my questions, including looking all over town for 1 tiny part! I appreciate the high level of service received. I will recommend PlumbRite to my people! Thank you!!!

- Megan J.

"Friendly, kind, understanding, and knowledgeable about our issues."

Logan offered incredible Customer Service. Friendly, kind, understanding, and knowledgeable about our issues. Promptly completed repairs too. Definitely look forward to him continuing to service our future home needs.

- Shelley

"They show up on time and have excellent customer service."

We had an amazing experience with the Plumbrite team. They send you a text prior to the plumber coming out with a picture of who is coming and they also call ahead. They show up on time and have excellent customer service. Cody was particularly exceptional

- Bryant M.

"Will Definitely recommend PlumbRite to anybody looking for excellent quality."

Logan and Dale were great. incredible Customer Service. Friendly and knowledgeable about what we needed to be done. They gave us options and let us know about each one. They did what had to be done in a timely manner. Will Definitely recommend PlumbRite to

- Daisy R.

"If you need a plumber call PlumbRite!!! You won't be disappointed!"

Cody is great! Would very highly recommend him! We called on a Saturday morning, after a google search and reading some reviews, with a sewer backup in our basement. They answered right away and Cody was at our house in an hour. He talks you through everyt

- Amanda D.