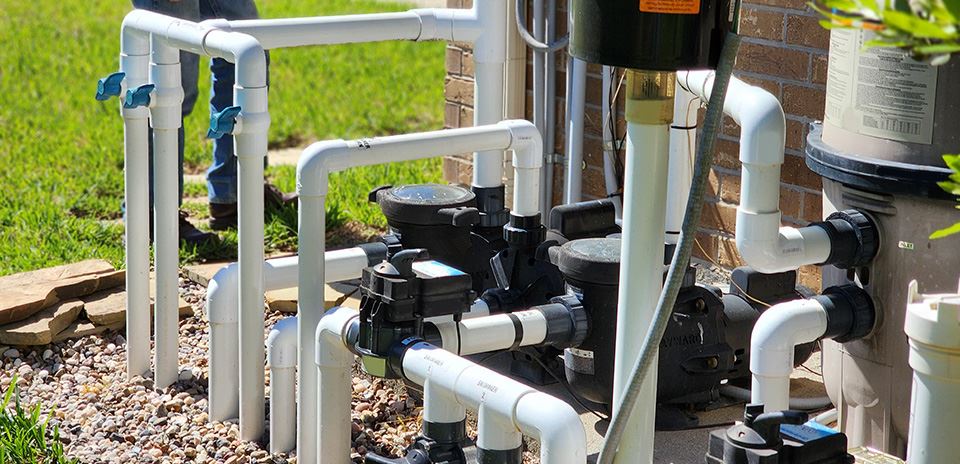 Pool and Spa Plumbing in Omaha
Cost-Effective Pool and Spa Plumbing Solutions in Bellevue and La Vista
The intricacies of pool and spa plumbing extend far beyond the realm of simple water flow. This complex system, often unseen and unappreciated, plays a vital role in maintaining the hygiene, efficiency, and overall functionality of your pool or spa. From efficient water circulation to temperature regulation and chemical balancing, every component works in harmony to create an inviting and safe environment, which is why you should always hire a professional when you need help with maintenance, repairs, or new installations.
No matter your needs, you can always count on PlumbRite for affordable and reliable pool and spa plumbing in Omaha. Our experts understand the intricacies of outdoor plumbing and the fixtures that make your pool and spa function. Whether you are looking to add a pool to your home or are dealing with constant leaks, we are confident we can deliver a comprehensive solution. You can always expect upfront pricing, no surprise fees, and friendly technicians committing to doing the job right the first time. With our satisfaction guarantee, you can trust your pool or spa is in capable hands!
Give your pool or spa the high-quality support it deserves. Call (402) 623-6802 or contact us online to request service today!
The Importance of Regular Pool and Spa Maintenance
Regular pool and spa plumbing maintenance is crucial for numerous reasons, with hygiene being one of the most critical. Pools and spas are shared spaces, making them susceptible to the spread of bacteria and other harmful pathogens if their plumbing is not properly maintained. Preventative maintenance like consistent cleaning and chemical balancing creates a safe environment, minimizing the risk of waterborne diseases. Additionally, it prevents the buildup of algae and mold, which can cause slippery surfaces and increase the risk of accidents.
Maintenance is not solely about hygiene and safety. It is also about preserving the aesthetic attraction and the longevity of your pool or spa. Regular cleaning ensures that the water remains crystal clear and inviting, while maintaining the surface prevents staining and discoloration. Timely replacement of worn-out parts, such as filters or pumps, prolongs the life of the overall system and delays costly overhauls.
Ignoring regular maintenance of pool and spa plumbing in Omaha can lead to small issues escalating into major problems. A minor leak, if not detected and fixed promptly, can cause significant water loss and potentially damage the surrounding landscape or property. Similarly, a small blockage left unattended can compromise the entire circulation system of the pool or spa, resulting in costly repairs.
How Often Should I Schedule Pool or Spa Plumbing Maintenance?
As a general guideline, all residential pools and spas need regular maintenance to ensure optimal operation. The specific frequency can vary based on a number of factors, including the size of the pool or spa, its usage, and the quality of water. With that said, we typically recommend a thorough inspection and servicing of your pool or spa's plumbing system should be completed at least once a year.
An annual plumbing maintenance allows for a full inspection of all the components of the pool or spa system. This includes checking the pump for any signs of wear and tear, inspecting the heater for proper function, checking the filter for any needed cleaning or replacement, and ensuring that the pipes are clear from any potential blockages. It also allows our professionals to detect and repair any minor leaks that could, over time, lead to significant water loss and structural damage.
While annual servicing is highly recommended, it is important to note that some aspects of pool and spa maintenance need more frequent attention. For instance, filters – especially those in high-usage pools or spas – may need to be cleaned or replaced more often. This could be monthly or even weekly, depending on the circumstances. Similarly, if the pool or spa is used heavily, or if there are larger numbers of bathers, then chemical levels may need to be tested and adjusted on a weekly basis to maintain a safe and hygienic water environment.
In addition to this, seasonal changes affect how often your pool or spa needs maintenance. Nebraska's chillier months generally call for additional care and winterizing to prepare for the winter season.
Every pool or spa is different, but we can walk you through what their plumbing needs to stay in top shape. Our team at PlumbRite can help you develop a custom maintenance plan tailored to your pool or spa's unique requirements.
Signs Your Poor or Spa Plumbing Needs Repairs
There are several signs that your pool and spa plumbing in Omaha may need professional repairs. Early detection and repair of issues such as leaks, blockages, or equipment malfunction can prevent them from escalating into more serious and costly problems, so do not wait to act if you start to notice signs of trouble.
Get in touch with our plumbing experts if you discover any of the following problems:
Water Level Changes. If you notice a sudden or gradual decrease in your pool or spa's water level, this can be an indication of a leak in the plumbing system.
Poor Water Circulation. If the water in your pool or spa seems stagnant or the jets are not as powerful as they once were, a blockage in the plumbing could be to blame.
Cloudy or Discolored Water. If the water in your pool or spa is consistently cloudy or has a strange color despite proper chemical balances, it might indicate a problem with the filtration system.
Visible Damage. Any visible signs of damage like cracks, leaks, or corrosion around the pool equipment or plumbing system can suggest the need for repairs.
Lack of Hot Water. When your pool or spa heater fails, it can cause discomfort and hamper the use of your facility. Repair or replacement should be done by one of our professional technicians to avoid any risk of injury.
Skin or Eye Irritation after Use. An imbalance can lead to skin and eye irritation for users and potential damage to the pool or spa. Regular professional testing and adjustment can help keep the water balanced and safe.
Increased Utility Bills. An unexpected increase in your water or energy bill could suggest a hidden leak or a malfunctioning pump or heater, respectively.
Want to Install a New Pool or Spa? We Can Help!
Our team of seasoned plumbing professionals also specializes in new pool and spa installations. With our extensive knowledge and experience in the field, we are able to assist you throughout every step of the process. We start with an initial consultation, where we discuss your design preferences, budget, and any specific features you wish to incorporate. Our technicians then create and deliver detailed plans that take into account the unique characteristics of your property and your preferences for the pool or spa.
Once the design is finalized and approved, we handle the procurement of the highest quality materials and components, ensuring durability and longevity. Our team of skilled technicians carry out the entire installation process with meticulous attention to detail, from the laying out of the plumbing system to the final touches on the pool or spa surface.
Post-installation, we offer a thorough orientation to help you understand the operation and maintenance of your new pool or spa. We remain at your service for any follow-up support or maintenance needs, ensuring your new facility continues to function optimally and remains a source of enjoyment for years to come.
If your pool or spa plumbing in Omaha needs urgent repairs, we offer 24/7 emergency service! Call (402) 623-6802 or contact us online today.
When You Call, You Can Expect To Receive:
Quick Response & Service

PlumbRite's 24/7 service allows for jobs to be completed quickly and efficiently, anytime, anywhere, and every day!

Upfront & Affordable Pricing

PlumbRite's service is always of the highest quality. But that doesn't mean we are the highest priced in the industry. We understand how frustrating it is to have a plumbing problem, so we want your wallet to be happy after we fix your issue!

Trusted Work That's Done Right

PlumbRite always does the job up to code and with perfect accuracy. We even have plumbers on staff that teach at vocational schools! This shows the pride we take in the work and making sure everything is done to the correct specifications!
Hear From Our Happy Customers
"Trust is big when it comes to plumbing. That's why we make it a point to be on time, explain repairs in detail, and have the utmost respect for our customers."
- Matt, Owner of PlumbRite
"Cody from Plumbrite was SO exceptional!"

Cody from Plumbrite was SO exceptional! He was able to come out tonight promptly for a clogged toilet. I was so impressed with his professionalism and friendly demeanor. Cody was able to fix the problem quickly. I would highly recommend Cody and PlumbRite.

- Lise R.

"I will recommend PlumbRite to my people! Thank you!!!"

Logan and Jeremy were fantastic! They provided excellent communication, service, all my questions, including looking all over town for 1 tiny part! I appreciate the high level of service received. I will recommend PlumbRite to my people! Thank you!!!

- Megan J.

"Friendly, kind, understanding, and knowledgeable about our issues."

Logan offered incredible Customer Service. Friendly, kind, understanding, and knowledgeable about our issues. Promptly completed repairs too. Definitely look forward to him continuing to service our future home needs.

- Shelley

"They show up on time and have excellent customer service."

We had an amazing experience with the Plumbrite team. They send you a text prior to the plumber coming out with a picture of who is coming and they also call ahead. They show up on time and have excellent customer service. Cody was particularly exceptional

- Bryant M.

"Will Definitely recommend PlumbRite to anybody looking for excellent quality."

Logan and Dale were great. incredible Customer Service. Friendly and knowledgeable about what we needed to be done. They gave us options and let us know about each one. They did what had to be done in a timely manner. Will Definitely recommend PlumbRite to

- Daisy R.

"If you need a plumber call PlumbRite!!! You won't be disappointed!"

Cody is great! Would very highly recommend him! We called on a Saturday morning, after a google search and reading some reviews, with a sewer backup in our basement. They answered right away and Cody was at our house in an hour. He talks you through everyt

- Amanda D.