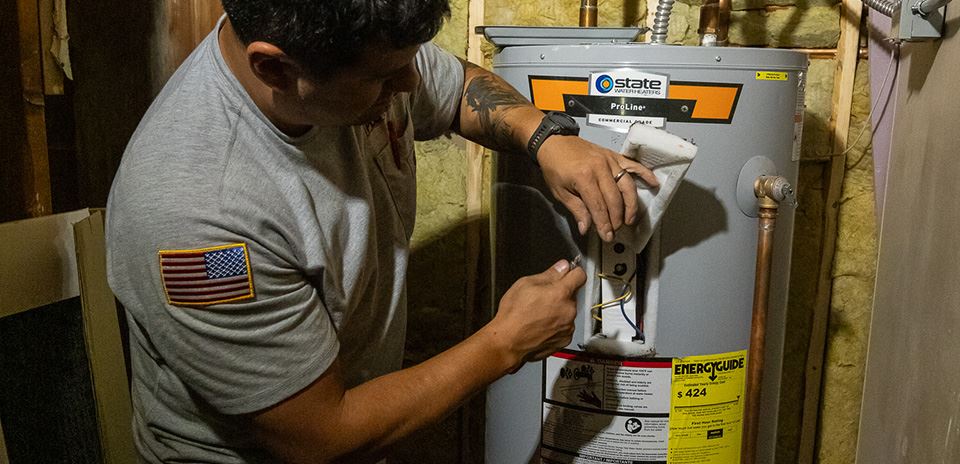 Water Heater Repairs in Omaha, NE
24/7 Plumbers Ready to Restore Your Hot Water Anytime
Water heaters are the unsung heroes of your home. You probably never think about them when you turn on the sink or get in the shower, but your water heater is constantly working to make you comfortable. So when the heater breaks or has issues, you may be unpleasantly surprised.
Contact PlumbRite today either online or at (402) 623-6802 to schedule an appointment for our water heater repair services in Omaha, NE. Make sure to give us a call for emergency service.
Emergency Water Heater Repairs
What to Do When Your Water Heater Breaks Down Suddenly
In emergencies, it's essential to act quickly to minimize damage and inconvenience. Here's what you can do:
Shut Off the Power: If your water heater is electric, turn off the power at the circuit breaker. For gas heaters, turn off the gas supply.
Cut Off Water Supply: Locate the water shut-off valve connected to your water heater and turn it off to stop the water flow.
Contact PlumbRite: Call our emergency number, and we'll dispatch a plumber to your Omaha residence as soon as possible.
Why Choose PlumbRite for Water Heater Repairs in Omaha?
At PlumbRite, we take pride in being the go-to choice for water heater repairs in Omaha. Here's why you should consider us for your water heater issues:
Local Expertise
We understand the unique challenges that homeowners in Omaha face, including the extreme weather conditions that can put stress on your water heater. Our local knowledge ensures we can address your concerns effectively.
Quick and Reliable Service
We know that a malfunctioning water heater can disrupt your daily routine. Our team is dedicated to providing prompt and reliable service, getting your hot water back as quickly as possible.
Skilled Plumbers
Our team of skilled plumbers is experienced in handling various water heater models and brands. We keep up with the latest industry trends to ensure top-notch service.
Competitive Pricing
We believe that quality service should be affordable. PlumbRite offers competitive pricing and transparent quotes, so you know what to expect.
Remember, when emergencies strike, we're just a call away. Stay proactive, and your water heater will thank you with uninterrupted hot water. For all your water heater needs, trust PlumbRite to keep your Omaha home cozy and comfortable.
Signs You Need Water Heater System Repair
Everyone knows that they need water heater repair if they have no hot water at all. However, other signs can be less obvious. You need to watch out for:
Irregular water temperatures: When you twist the hot knob on your faucet, does the water sometimes come out hot, other times lukewarm? Your water heater may have an issue.
Discolored water: If your water comes out brown or has little particles in it, your water heater probably has sediments in it.
Insufficient hot water: If you always seem to run out of hot water too soon, your heater probably has an issue with the heating elements or sediments in the tank.
Odd noises: Noises are never a good sign. Call us if you hear clanking, banging, or whirring that you haven't heard before.
Leaking water: Another obvious issue is if you spot water underneath or around the system. This is a serious problem that needs immediate repairs.
Common Water Heater Repair Issues in Omaha
1. Sediment Buildup
Omaha's hard water can lead to sediment buildup in your water heater over time. This accumulation can affect the heater's efficiency and lead to a decrease in hot water production. Our plumbers can flush out the sediment and restore your water heater's performance.
2. Pressure Relief Valve Leaks
Pressure relief valves are essential safety components in water heaters. If you notice your valve is leaking, it could indicate excessive pressure or a faulty valve. Our team can diagnose and repair this issue promptly to ensure your safety.
With over 20 years of experience, we're confident in our skills and knowledge. We're committed to excellent repairs and customer service, so give us a call today and see how we can help you in Omaha, NE. Call us at (402) 623-6802.
When You Call, You Can Expect To Receive:
Quick Response & Service

PlumbRite's 24/7 service allows for jobs to be completed quickly and efficiently, anytime, anywhere, and every day!

Upfront & Affordable Pricing

PlumbRite's service is always of the highest quality. But that doesn't mean we are the highest priced in the industry. We understand how frustrating it is to have a plumbing problem, so we want your wallet to be happy after we fix your issue!

Trusted Work That's Done Right

PlumbRite always does the job up to code and with perfect accuracy. We even have plumbers on staff that teach at vocational schools! This shows the pride we take in the work and making sure everything is done to the correct specifications!
Hear From Our Happy Customers
"Trust is big when it comes to plumbing. That's why we make it a point to be on time, explain repairs in detail, and have the utmost respect for our customers."
- Matt, Owner of PlumbRite
"Cody from Plumbrite was SO exceptional!"

Cody from Plumbrite was SO exceptional! He was able to come out tonight promptly for a clogged toilet. I was so impressed with his professionalism and friendly demeanor. Cody was able to fix the problem quickly. I would highly recommend Cody and PlumbRite.

- Lise R.

"I will recommend PlumbRite to my people! Thank you!!!"

Logan and Jeremy were fantastic! They provided excellent communication, service, all my questions, including looking all over town for 1 tiny part! I appreciate the high level of service received. I will recommend PlumbRite to my people! Thank you!!!

- Megan J.

"Friendly, kind, understanding, and knowledgeable about our issues."

Logan offered incredible Customer Service. Friendly, kind, understanding, and knowledgeable about our issues. Promptly completed repairs too. Definitely look forward to him continuing to service our future home needs.

- Shelley

"They show up on time and have excellent customer service."

We had an amazing experience with the Plumbrite team. They send you a text prior to the plumber coming out with a picture of who is coming and they also call ahead. They show up on time and have excellent customer service. Cody was particularly exceptional

- Bryant M.

"Will Definitely recommend PlumbRite to anybody looking for excellent quality."

Logan and Dale were great. incredible Customer Service. Friendly and knowledgeable about what we needed to be done. They gave us options and let us know about each one. They did what had to be done in a timely manner. Will Definitely recommend PlumbRite to

- Daisy R.

"If you need a plumber call PlumbRite!!! You won't be disappointed!"

Cody is great! Would very highly recommend him! We called on a Saturday morning, after a google search and reading some reviews, with a sewer backup in our basement. They answered right away and Cody was at our house in an hour. He talks you through everyt

- Amanda D.