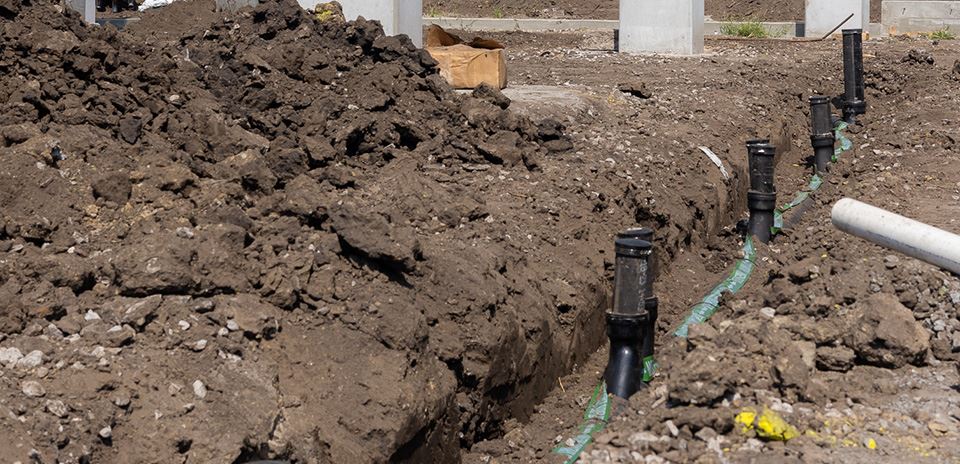 Outdoor Plumbing in Omaha
Reliable Outdoor Plumbing Experts Serving Bellevue and La Vista
A variety of outdoor appliances and fixtures depend on outdoor plumbing systems for their operation. These include, but are not limited to, swimming pools and spas, which require extensive plumbing for filtration and water circulation. Outdoor sinks and showers, often installed in poolside areas or outdoor kitchens, need a robust water supply and drainage system. Garden fountains, waterfalls, or other water features are also dependent on outdoor plumbing, while outdoor gas stoves and grills are dependent on gas lines.
Our experts at PlumbRite offer comprehensive outdoor plumbing solutions tailored to your specific needs. We handle all elements of outdoor plumbing in Omaha, including new installations, remodels, repairs, and maintenance. Whether you are looking to install a new outdoor kitchen, a swimming pool, or an intricate landscape irrigation system, our team of experienced professionals can guide you through the process. We always ensure proper installation and maintenance of outdoor water and gas lines, keeping your outdoor appliances and features functioning optimally. With a satisfaction guarantee and upfront pricing, you can always expect dependable, cost-effective services that meet and exceed your expectations.
If you are having issues with any part of your existing outdoor plumbing system or are considering undertaking a new project, call (402) 623-6802 or contact us online to discuss your needs with a member of our team!
We Can Help with Outdoor Appliances of All Kinds
We are your partners whenever you are looking to enhance your outdoor living experience. From new faucets to fire pits to hoses to water features, we have the expertise and the tools to cater to your every requirement. We have a deep understanding of the unique requirements of different outdoor appliances. Be it a gas grill requiring a steady and safe gas connection, a swimming pool needing efficient water circulation, or an irrigation system requiring precise water distribution, we ensure each appliance receives tailored care.
Our outdoor plumbing services in Omaha include expert help with the installation, maintenance, and repairs of many types of appliances and fixtures, including:
Swimming Pools and Spas. These require an extensive and complex plumbing system for filtration and water circulation. A well-planned and professionally installed plumbing system is integral to the cleanliness and overall maintenance of pools and spas.
Outdoor Sinks and Showers. Often found in poolside areas or outdoor kitchens, these fixtures need a robust water supply and drainage system. They provide the convenience of indoor amenities while enjoying outdoor living spaces.
Garden Fountains and Water Features. These features are also dependent on outdoor plumbing for their functioning. They contribute to the aesthetics of outdoor spaces, providing a soothing environment and often becoming the centerpiece of the garden.
Outdoor Irrigation Systems. Sprinklers and drip lines are essential for maintaining a healthy and lush landscape. They rely on outdoor plumbing to distribute water evenly and efficiently across the garden.
Outdoor Hydrants and Hoses. These fixtures are versatile and can be used for various tasks, such as washing cars, watering gardens, or cleaning exterior spaces.
Outdoor Gas Stoves and Grills. These appliances rely on outdoor gas plumbing systems to provide a steady supply of natural gas or propane. An efficient gas plumbing system ensures uninterrupted outdoor cooking experiences.
How Often Do Outdoor Plumbing Appliances Need Maintenance?
How much maintenance each of your outdoor appliances will need largely depends on the type of appliance and its usage. Generally, though, most outdoor plumbing systems require a comprehensive annual check-up. This helps identify any potential issues early on, avoiding the need for expensive repairs or replacements and extending the lifespan of your systems. Still, some outdoor plumbing elements may require more frequent maintenance than others.
For instance, swimming pools and spas, which are typically subject to heavy usage, especially during the summer months, should ideally be inspected at the beginning and end of the pool season. This includes checking the filtration system, the water circulation system, and the general condition of the pool or spa. Any minor repairs or adjustments can be made during these checks, preventing costly damages down the line.
Outdoor kitchens, including gas stoves and grills, should also be serviced annually, preferably before the start of the summer season when they are in high use. This service should include checking the gas lines for leaks, assessing the condition of the fixtures, and ensuring the overall safety and efficiency of the system.
Irrigation systems, on the other hand, might require more frequent checks, especially with Nebraska's changing seasons. It is a good idea to have them inspected at the start of each season to adjust to the varying water needs of the landscape. Additionally, these systems should be winterized to prevent damage from freezing temperatures.
In conclusion, while you can complete routine DIY checks throughout the year, it is crucial to have a professional complete preventative maintenance at least once a year – and in some cases, seasonally. At PlumbRite, we offer comprehensive maintenance plans tailored to your specific outdoor plumbing needs, ensuring your appliances are always in top shape.
Common Signs of Problems with Outdoor Plumbing
Though proactive maintenance can help prevent many issues from affecting your outdoor plumbing in Omaha, there are situations where one or more appliances may need immediate professional attention. Recognizing the early signs of outdoor plumbing issues can save you from costly repairs and significant inconveniences.
Here are some signs that your outdoor plumbing may need professional repairs:
Unusual Wet Spots. If you notice wet spots or pools of water in your yard when it has not rained, it could indicate a leak in your outdoor plumbing system. Such leaks can cause water waste and damage to your landscape.
Low Water Pressure. If your outdoor faucets or sprinkler systems are not generating the usual water pressure, it could be a sign of a blockage or leak in your outdoor plumbing system.
Sewer Smell. A foul smell in your yard could indicate a problem with your sewer line. If not addressed promptly, it could lead to an unsanitary and unpleasant outdoor environment.
Slow Drainage. Slow drainage in outdoor sinks or showers may suggest a blockage in your outdoor drainage system. Ignoring this can lead to damaging overflows.
Changes in Landscape Health. If patches of your lawn are unusually green and lush or particularly dry, this could indicate a leak or blockage in your irrigation system.
Inefficient Appliances. If your outdoor appliances, such as gas grills or pool pumps, are not working as efficiently as they should, it may signal a problem in your outdoor gas or water supply lines.
24/7 Emergency Service
Outdoor plumbing emergencies can occur unexpectedly and require immediate attention to prevent significant damage. Examples include burst pipes, blocked drains, gas leaks, and sewer line backups, all of which require prompt professional attention. Our outdoor plumbing experts are available day or night to quickly address and resolve these issues. We are prepared to tackle any challenge and will not rest until we restore the safety and functionality of your outdoor plumbing systems.
No matter the scope or complexity of the problem, we are confident we can handle any issue with your outdoor plumbing in Omaha. Contact us online or call (402) 623-6802 today.
When You Call, You Can Expect To Receive:
Quick Response & Service

PlumbRite's 24/7 service allows for jobs to be completed quickly and efficiently, anytime, anywhere, and every day!

Upfront & Affordable Pricing

PlumbRite's service is always of the highest quality. But that doesn't mean we are the highest priced in the industry. We understand how frustrating it is to have a plumbing problem, so we want your wallet to be happy after we fix your issue!

Trusted Work That's Done Right

PlumbRite always does the job up to code and with perfect accuracy. We even have plumbers on staff that teach at vocational schools! This shows the pride we take in the work and making sure everything is done to the correct specifications!
Hear From Our Happy Customers
"Trust is big when it comes to plumbing. That's why we make it a point to be on time, explain repairs in detail, and have the utmost respect for our customers."
- Matt, Owner of PlumbRite
"Cody from Plumbrite was SO exceptional!"

Cody from Plumbrite was SO exceptional! He was able to come out tonight promptly for a clogged toilet. I was so impressed with his professionalism and friendly demeanor. Cody was able to fix the problem quickly. I would highly recommend Cody and PlumbRite.

- Lise R.

"I will recommend PlumbRite to my people! Thank you!!!"

Logan and Jeremy were fantastic! They provided excellent communication, service, all my questions, including looking all over town for 1 tiny part! I appreciate the high level of service received. I will recommend PlumbRite to my people! Thank you!!!

- Megan J.

"Friendly, kind, understanding, and knowledgeable about our issues."

Logan offered incredible Customer Service. Friendly, kind, understanding, and knowledgeable about our issues. Promptly completed repairs too. Definitely look forward to him continuing to service our future home needs.

- Shelley

"They show up on time and have excellent customer service."

We had an amazing experience with the Plumbrite team. They send you a text prior to the plumber coming out with a picture of who is coming and they also call ahead. They show up on time and have excellent customer service. Cody was particularly exceptional

- Bryant M.

"Will Definitely recommend PlumbRite to anybody looking for excellent quality."

Logan and Dale were great. incredible Customer Service. Friendly and knowledgeable about what we needed to be done. They gave us options and let us know about each one. They did what had to be done in a timely manner. Will Definitely recommend PlumbRite to

- Daisy R.

"If you need a plumber call PlumbRite!!! You won't be disappointed!"

Cody is great! Would very highly recommend him! We called on a Saturday morning, after a google search and reading some reviews, with a sewer backup in our basement. They answered right away and Cody was at our house in an hour. He talks you through everyt

- Amanda D.