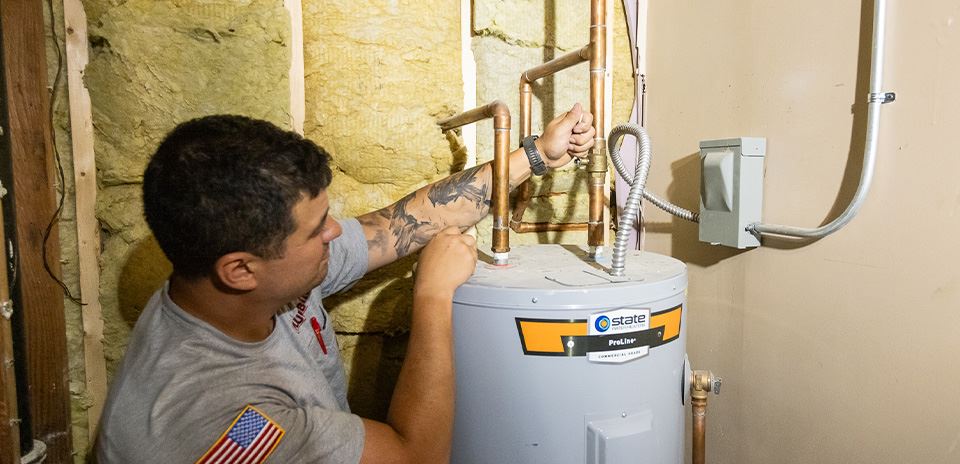 Gas Line Plumbing in Omaha
Dependable Gas Line Plumbers Serving Bellevue and La Vista
Your gas lines provide a safe, efficient, and controlled conduit for the delivery of natural gas to your stoves, water heaters, fireplaces, and other appliances. In many homes, gas lines also supply fuel for outdoor grills and indoor heating systems, offering a reliable and cost-effective solution for various energy needs.
At PlumbRite, we are committed to ensuring the safety and efficiency of your home's gas lines. Our team of certified professionals is at your service for all aspects of gas line plumbing in Omaha, including maintenance, repair, or replacement needs. We offer comprehensive maintenance plans designed to proactively assess the condition of your gas lines, checking for any signs of damage, and testing for leaks. By detecting issues early, we can prevent more serious, costly repairs down the line. If you suspect a gas leak, we provide immediate assistance, employing state-of-the-art equipment to locate and fix the problem, while prioritizing your safety above all else. If your gas lines are outdated or damaged beyond repair, we provide efficient and safe gas line replacement services. We use high-quality materials that meet all safety standards, and our installation process guarantees minimal disruption to your home.
You can always expect responsive service and affordable, upfront pricing. Plus, your satisfaction is guaranteed! Call (402) 623-6802 or contact us online to request service today.
Signs of a Gas Line Problem
Ignoring gas line problems can lead to dire consequences, making it crucial to stay on top of any potential issues. A faulty gas line can result in gas leaks, which not only lead to increased utility bills but also pose serious health risks such as nausea, dizziness, and even asphyxiation in severe cases. Furthermore, natural gas is highly combustible, making gas leaks a significant fire hazard. By promptly addressing gas line problems, you can prevent these potential dangers, ensuring the safety of your household.
Do not wait to request help from our gas line plumbing professionals in Omaha if you notice any of the following:
Unusual Smell. Gas lines carry natural gas, which has a distinct rotten egg-like odor. If you begin to notice this smell in your home, it could indicate a gas leak.
Hissing Sound. If there's a hissing sound near your gas appliances or gas line, this could be a sign of a gas leak.
Dead Plants. Gas leaks can affect vegetation. If plants around your gas line are dying without any apparent cause, it could be a sign of a gas leak.
Health Symptoms. Exposure to natural gas can cause health symptoms such as dizziness, fatigue, nausea, and difficulty breathing. If members of your household are experiencing these symptoms, there could be a gas leak.
Skyrocketing Gas Bills. If your gas bills are exceptionally high without a change in gas usage, this could indicate a problem with your gas line.
Remember, gas leaks can be dangerous if not addressed promptly. If you think you may be dealing with a gas leak, you should evacuate your home immediately and request emergency support. We offer 24/7 emergency service.
How We Handle Gas Leaks
At PlumbRite, we take gas leaks extremely seriously, and our responsive action plan is designed to minimize risks and swiftly resolve the issue. When we get a call about a gas leak, our team of certified professionals is immediately dispatched to the site. Armed with state-of-the-art detection equipment, our top priority upon arrival is to safely evacuate everyone from the property and shut off the gas supply to halt any further leakage. We work swiftly to secure the premises and minimize the risk of any potential fire hazards.
Once your property is secured, we work to identify the source of the leak. Our professionals conduct a meticulous inspection of your gas line system using advanced technologies to pinpoint the precise location of the leak.
Next, we proceed with repairs. Depending on the severity of the leak, this might involve either repairing the damaged section or, in extreme cases, replacing the entire gas line. Our team prides itself on using only high-quality materials that meet safety standards, ensuring the durability and longevity of your gas line.
After completing all necessary repairs or replacements, we conduct rigorous tests to confirm the elimination of the leak and verify that your gas line system is functioning optimally. Our work is not done until you have a safe and efficient gas line that is free from potential hazards.
How Often Does My Gas Line Need Maintenance?
Investing in regular gas line maintenance can help extend the lifespan of your gas line as well as better ensure your safety. You should generally have a professional plumber inspect and conduct maintenance on your gas line at least once a year. This annual inspection allows for the early detection and repair of potential issues, preventing them from escalating into significant problems. However, the specific frequency can depend on several factors, including the age and condition of your gas lines, the materials they are made from, and local regulations or recommendations. Again, if you start noticing any unusual signs such as an unusual smell or hissing sound, higher gas bills, or dying plants around the gas line area, you should seek immediate professional assistance regardless of your last maintenance schedule.
What Is Included in a Gas Line Maintenance Visit?
We take a careful approach to all elements of gas line plumbing in Omaha, including maintenance. When you schedule a maintenance visit, one of our highly trained experts will come to your property at your convenience and complete several important tasks designed to ensure the safety and longevity of your gas line.
This starts with a comprehensive inspection of your gas lines, assessing their condition, and checking for any visible signs of damage or wear. We will look for any cracks, rust, or corrosion that may indicate a potential problem.
Then, we perform leak detection tests to ensure there are no hidden leaks that could pose a safety risk. This is done using advanced detection equipment that can accurately locate even the smallest leaks. We will also examine the pressure in your gas lines. This is crucial, as incorrect pressure can lead to inefficient appliance operation and even potential leaks. Finally, we will check the pipe fittings and joints to ensure they are secure and not showing signs of damage. We will provide a detailed report of our findings and, if necessary, recommend repairs or replacements.
When Do I Need to Consider Replacing My Gas Line?
There are several instances when you might need to consider replacing one or more of your gas lines. If your gas lines are old and beginning to deteriorate, a replacement might be necessary to ensure the safety and efficiency of your gas-powered appliances. Signs of deterioration could include visible rusting, corrosion, or cracks in the line. Sometimes, a gas line may need to be replaced if it was not properly installed or if it is not up to current safety standards.
Another scenario requiring gas line replacement could be a significant gas leak that cannot be fixed with a simple repair. If repeated leaks occur, this could indicate a larger issue with the gas line that may warrant a full replacement.
Furthermore, if you are planning to remodel your home or change the location of your gas appliances, you might need to replace or reroute your existing gas lines. If you are adding a new gas appliance to your home, such as an outdoor grill or a gas fireplace, you might need a new gas line installation.
Fortunately, our gas line plumbing services in Omaha include expert assistance with both replacements and new installations. Whether you are adding a new gas-powered appliance to your home, remodeling your property, or replacing a deteriorating gas line, our team of certified professionals can complete timely installations. We strictly adhere to all safety standards and regulations, ensuring that all gas lines are installed properly for optimal efficiency and safety.
If you have any concerns about your gas lines or do not remember when they last received maintenance, we encourage you to call (402) 623-6802 or contact us online to request service today.
When You Call, You Can Expect To Receive:
Quick Response & Service

PlumbRite's 24/7 service allows for jobs to be completed quickly and efficiently, anytime, anywhere, and every day!

Upfront & Affordable Pricing

PlumbRite's service is always of the highest quality. But that doesn't mean we are the highest priced in the industry. We understand how frustrating it is to have a plumbing problem, so we want your wallet to be happy after we fix your issue!

Trusted Work That's Done Right

PlumbRite always does the job up to code and with perfect accuracy. We even have plumbers on staff that teach at vocational schools! This shows the pride we take in the work and making sure everything is done to the correct specifications!
Hear From Our Happy Customers
"Trust is big when it comes to plumbing. That's why we make it a point to be on time, explain repairs in detail, and have the utmost respect for our customers."
- Matt, Owner of PlumbRite
"Cody from Plumbrite was SO exceptional!"

Cody from Plumbrite was SO exceptional! He was able to come out tonight promptly for a clogged toilet. I was so impressed with his professionalism and friendly demeanor. Cody was able to fix the problem quickly. I would highly recommend Cody and PlumbRite.

- Lise R.

"I will recommend PlumbRite to my people! Thank you!!!"

Logan and Jeremy were fantastic! They provided excellent communication, service, all my questions, including looking all over town for 1 tiny part! I appreciate the high level of service received. I will recommend PlumbRite to my people! Thank you!!!

- Megan J.

"Friendly, kind, understanding, and knowledgeable about our issues."

Logan offered incredible Customer Service. Friendly, kind, understanding, and knowledgeable about our issues. Promptly completed repairs too. Definitely look forward to him continuing to service our future home needs.

- Shelley

"They show up on time and have excellent customer service."

We had an amazing experience with the Plumbrite team. They send you a text prior to the plumber coming out with a picture of who is coming and they also call ahead. They show up on time and have excellent customer service. Cody was particularly exceptional

- Bryant M.

"Will Definitely recommend PlumbRite to anybody looking for excellent quality."

Logan and Dale were great. incredible Customer Service. Friendly and knowledgeable about what we needed to be done. They gave us options and let us know about each one. They did what had to be done in a timely manner. Will Definitely recommend PlumbRite to

- Daisy R.

"If you need a plumber call PlumbRite!!! You won't be disappointed!"

Cody is great! Would very highly recommend him! We called on a Saturday morning, after a google search and reading some reviews, with a sewer backup in our basement. They answered right away and Cody was at our house in an hour. He talks you through everyt

- Amanda D.