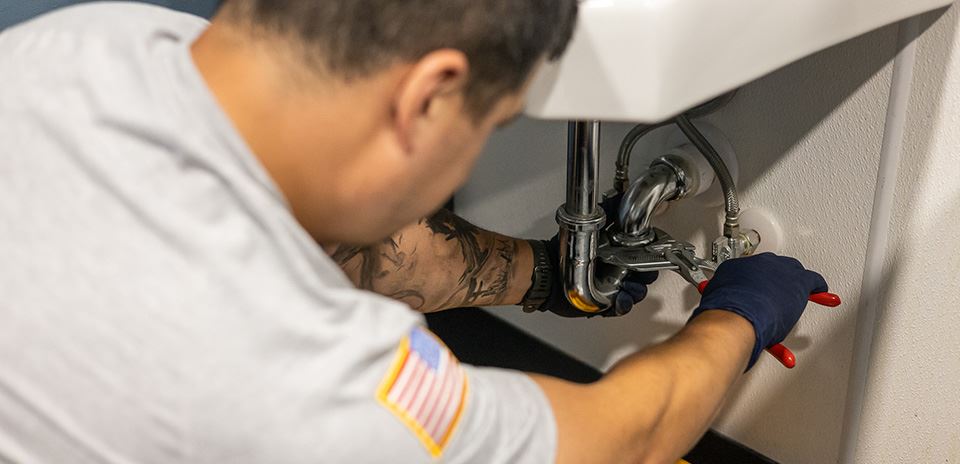 Plumbing Maintenance in Omaha
Affordable Plumbing Maintenance Experts Serving Bellevue and La Vista
No one wants to deal with plumbing emergencies. Whether it's a burst pipe or a blocked drain, these problems can cause massive disruptions and cost a considerable amount to repair. You can save money and avoid inconvenience by proactively investing in plumbing maintenance instead of reacting to plumbing issues as they appear. Many eventual plumbing emergencies smart as smaller, detectable issues that can be caught and resolved during a routine maintenance visit.
At PlumbRite, we aim to make residential and commercial plumbing maintenance in Omaha easy. Our services are affordable, dependable, and comprehensive. Let our professional plumbers with over 20 years of experience take care of your fixtures and piping so that you can rest easy knowing your plumbing system is in good working order. We will walk you through any concerns we have after completing our inspections and take the time to ensure you are happy with our work. Plus, with upfront pricing, you will never have to worry about any surprise fees!
We look forward to earning your trust and satisfaction! Call (402) 623-6802 or contact us online to schedule a maintenance visit.
How Often Does My Plumbing System Need Maintenance?
While the frequency of maintenance can vary depending on the age and type of your residential plumbing system, a good rule of thumb is to schedule a professional inspection at least once a year. This allows any minor issues to be caught early before they evolve into major, costly problems. However, for older homes with older plumbing systems, more frequent check-ups might be advisable. Remember, preventive maintenance is key to avoiding plumbing emergencies. We are happy to help you develop a maintenance plan based on the age and current condition of your plumbing system.
Commercial plumbing systems generally require more frequent maintenance due to the higher usage and strain on the system. For most commercial properties, it is recommended to have a professional inspection every quarter, or four times a year. This regular checkup helps ensure that the plumbing system continues to operate smoothly, even under the heavy workload of a commercial environment. However, the specific frequency might vary depending on the type and age of the plumbing system, as well as the nature of the business. High-usage businesses such as restaurants or hotels, for example, might benefit from even more frequent check-ups. As always, preventive maintenance is key to extending the lifespan of the system and avoiding costly downtime.
What Does a Typical Plumbing Maintenance Visit Include?
When you request plumbing maintenance in Omaha from our team, one of our expert technicians will promptly arrive as scheduled and complete a comprehensive inspection of your plumbing system. This includes checking all faucets for drips and inspecting pipes for leaks. We also assess the functioning of your toilets, ensuring that they flush properly and do not run continuously. Our technicians will further look at the water pressure in your home or business, as low pressure can indicate a problem with your plumbing.
An integral part of our comprehensive maintenance check includes a thorough inspection of your sump pump. This is particularly important if your home or property is prone to flooding. Our professional plumbers will ensure is operating correctly and ready to protect your home or business from potential water damage.
The inspection process involves checking the sump pump for any mechanical or operational issues. We test the pump by adding water to the sump pit and verifying if the pump turns on automatically and effectively removes the water. We also inspect the discharge pipe to ensure it's free of blockages and properly discharges water away from the property.
In addition, we look at the electrical components of the sump pump to ensure they are functioning optimally. We will examine the power cord, plug, and electrical outlet for potential damage or corrosion. Furthermore, we verify that the backup power source, typically a battery, is available and in good working condition, as this is crucial for maintaining sump pump operation during power outages.
Water heaters demand preventative maintenance. We will drain and flush your water heater to remove any sediment buildup that can affect the efficiency of your unit. Our technicians will visually inspect the unit for any signs of leakage or rust which could indicate potential problems. Our plumbers will then check the pressure relief valve, drain valve, and thermostat to ascertain their effectiveness. We pay special attention to the anode rod. This component is responsible for preventing rust inside the water heater, and if it is in poor condition, it is usually a sign that rust may already be infiltrating your system. If your water heater is gas-powered, we also ensure the gas valve and burner are functioning optimally. If you have an electric water heater, we examine the heating elements for any potential issues.
We also prioritize drain cleaning, which can accumulate debris over time and lead to clogs and backups. As part of our commitment to preventative maintenance, we use high-tech cameras to inspect your sewer lines, identifying any potential issues before they escalate.
Finally, we provide a detailed report on the condition of your plumbing system, highlighting any areas of concern and suggesting appropriate solutions. Our goal is to ensure that your plumbing system operates smoothly, efficiently, and without interruption. Regular plumbing maintenance is the best way to prevent major problems and costly repairs in the future.
When Do I Need More than Maintenance?
Sometimes, your plumbing system may need more than just a routine plumbing maintenance in Omaha. If you are experiencing consistent issues such as repeated clogs, leaks, or low water pressure, it may be a sign that a larger underlying issue is at play. Moreover, if your water bills are inexplicably high or you notice a sudden drop in the performance of your water heater, these could be signs of a serious plumbing issue that requires more drastic interventions. Major renovations or expansions of your property may also necessitate a more in-depth plumbing assessment or upgrade. Fortunately, our PlumbRite team is fully equipped to handle these investigations and provide the necessary solutions to ensure the integrity and efficiency of your plumbing system. Regular maintenance is crucial, but it is equally important to recognize when your system might need more comprehensive repairs.
We are available 24/7, so do not hesitate to call (402) 623-6802 or contact us online if your plumbing system needs maintenance or repairs!
When You Call, You Can Expect To Receive:
Quick Response & Service

PlumbRite's 24/7 service allows for jobs to be completed quickly and efficiently, anytime, anywhere, and every day!

Upfront & Affordable Pricing

PlumbRite's service is always of the highest quality. But that doesn't mean we are the highest priced in the industry. We understand how frustrating it is to have a plumbing problem, so we want your wallet to be happy after we fix your issue!

Trusted Work That's Done Right

PlumbRite always does the job up to code and with perfect accuracy. We even have plumbers on staff that teach at vocational schools! This shows the pride we take in the work and making sure everything is done to the correct specifications!
Hear From Our Happy Customers
"Trust is big when it comes to plumbing. That's why we make it a point to be on time, explain repairs in detail, and have the utmost respect for our customers."
- Matt, Owner of PlumbRite
"Cody from Plumbrite was SO exceptional!"

Cody from Plumbrite was SO exceptional! He was able to come out tonight promptly for a clogged toilet. I was so impressed with his professionalism and friendly demeanor. Cody was able to fix the problem quickly. I would highly recommend Cody and PlumbRite.

- Lise R.

"I will recommend PlumbRite to my people! Thank you!!!"

Logan and Jeremy were fantastic! They provided excellent communication, service, all my questions, including looking all over town for 1 tiny part! I appreciate the high level of service received. I will recommend PlumbRite to my people! Thank you!!!

- Megan J.

"Friendly, kind, understanding, and knowledgeable about our issues."

Logan offered incredible Customer Service. Friendly, kind, understanding, and knowledgeable about our issues. Promptly completed repairs too. Definitely look forward to him continuing to service our future home needs.

- Shelley

"They show up on time and have excellent customer service."

We had an amazing experience with the Plumbrite team. They send you a text prior to the plumber coming out with a picture of who is coming and they also call ahead. They show up on time and have excellent customer service. Cody was particularly exceptional

- Bryant M.

"Will Definitely recommend PlumbRite to anybody looking for excellent quality."

Logan and Dale were great. incredible Customer Service. Friendly and knowledgeable about what we needed to be done. They gave us options and let us know about each one. They did what had to be done in a timely manner. Will Definitely recommend PlumbRite to

- Daisy R.

"If you need a plumber call PlumbRite!!! You won't be disappointed!"

Cody is great! Would very highly recommend him! We called on a Saturday morning, after a google search and reading some reviews, with a sewer backup in our basement. They answered right away and Cody was at our house in an hour. He talks you through everyt

- Amanda D.