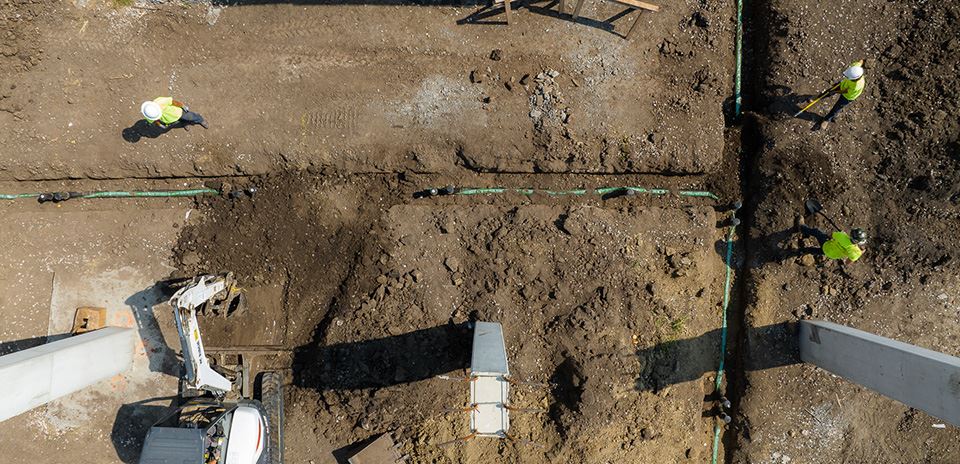 Piping and Repiping Services in Omaha
Reliable Piping Experts Serving Bellevue and La Vista
Pipes are the unseen heroes of your home, tirelessly working behind the scenes to ensure your household runs smoothly. They deliver clean water for drinking, cooking, and hygiene while safely carrying away wastewater. Without properly functioning pipes, your daily routine would be significantly disrupted.
When you begin to encounter piping issues, PlumbRite is your go-to solution. Our team of certified professional plumbers has the tools and expertise to efficiently diagnose and fix piping problems of all kinds. Whether your home requires minor pipe repairs or a complete repiping, you can count on our piping and repiping services in Omaha. Our experts employ the latest plumbing technology and techniques to minimize disruption to your home, and you can always expect superior service, timely responses, and long-lasting solutions.
We are available 24/7 for emergency repairs, so if your pipes need immediate attention, do not wait to call (402) 623-6802 or contact us online!
How Often Does My Home's Piping Need Professional Maintenance?
How frequently your home's piping needs maintenance will largely depend on its age, material, and level of usage. However, as a rule of thumb, it is smart to schedule a comprehensive maintenance check at least once a year. Not only does this ensure that your pipework is functioning optimally, but it can also identify potential issues before they escalate into major problems.
Regular piping maintenance is essential for several reasons. First, it can extend the longevity of your pipes, preventing premature wear and tear, and saving you costly repairs or replacements in the long run. Second, it helps maintain the efficiency of your water and gas systems, which can lead to substantial savings on your utility bills. Lastly, routine checks can safeguard your health by preventing issues such as water contamination or gas leaks, which can pose serious health risks. When you choose our trusted piping and repiping services in Omaha, you can ensure your home's piping receives the professional care and attention it needs to operate efficiently and safely.
How Do I Know When My Home's Piping Needs Immediate Attention?
Consistent preventative maintenance will catch many problems before they become damaging emergencies. However, there are warning signs you should watch out for that indicate a need to call a plumber immediately.
You should not wait to reach out to PlumbRite if you notice any of the following red flags:
Persistent Leaks. If you notice recurring leaks around your home, it may be a sign of deteriorating pipes. Persistent leaks can damage your home's structure and increase your water bill.
Discolored Water. Rusty or dark-colored water is an indication of corrosion within your pipes, which is a serious concern that needs immediate attention.
Low Water Pressure. Consistently low water pressure could mean there is a blockage or leak in your pipes. If this persists across multiple faucets, it is wise to call in a professional.
Odd Noises. Unusual noises like banging, clanging, or gurgling from your pipes can signal an issue with water pressure or a blockage.
Frequent Clogs. If you are frequently dealing with clogged pipes, it might be more than a simple blockage. It could indicate broken or misaligned pipes.
Noticeable Odors. Strange smells emanating from your pipes could mean there is a problem with your sewer or drain line.
Visible Signs of Corrosion. If you can see signs of deterioration or rust on exposed pipes, it is best to get them checked right away.
Our plumbing experts know what to look for when investigating the source of an issue. We will quickly diagnose the problem and walk you through all available solutions.
When Is Repiping My Home Necessary?
There may come a time when simple pipe repairs and maintenance are not enough to address recurring issues, and a full repiping of your home may be the best path forward. This is not a decision to be taken lightly, as repiping involves replacing all the water supply lines in your home. Several factors can point towards the necessity of this large-scale solution.
Age is a significant consideration when evaluating the need for repiping. Most pipes have a lifespan after which their performance starts to degrade. For instance, galvanized steel pipes typically last between 40 to 50 years, while copper pipes can sometimes last up to 80 years. If your home is older and the pipes have never been replaced, it may be time to consider repiping, especially if you are experiencing constant issues.
The type of material used in your home's piping can also indicate when repiping might be necessary. Some materials, such as polybutylene, are prone to breakage and are no longer used in modern plumbing due to their unreliability. In homes with these types of pipes, a complete repiping would not only resolve current issues but also prevent future problems.
Persistent issues, despite frequent repairs, are another sign that repiping may be needed. If you are continuously calling our professionals help to fix leaks, low water pressure, or other problems, it might be more cost-effective in the long run to replace the entire system rather than continue patching it up.
Our plumbers never push unnecessary solutions, meaning we will always be honest when discussing whether repairs are sufficient or if a repiping project is necessary. We also make every effort to ensure our piping and repiping services in Omaha are affordable, so we will work with you to find a cost-effective solution that protects your pipes.
What Does Repiping My Home Entail?
A residential repiping project, while substantial, is a straightforward process when handled by our experienced plumbers at PlumbRite. The process begins with an in-depth inspection of your home's existing piping system to assess its overall condition and identify the extent of the necessary work. This inspection informs our team of the needed materials, the scope of the work, and how best to go about the replacement.
Once we identify these elements, we develop a detailed work plan outlining each step of the repiping project. The repiping process itself involves removing the old pipes and replacing them with new ones, typically made of more reliable and durable materials. Our team carefully plans and executes the process to minimize the impact on your day-to-day life and maintain the integrity of your home's structure. We also ensure that your home's water supply is restored at the end of each workday.
Most repiping projects will take anywhere from two days to a week or more to complete depending on the size of your home and the complexity of the job. We will estimate how long we believe our work will take so you know what to expect.
After the physical repiping is complete, we thoroughly test the new system for leaks and ensure that it functions efficiently. The final step is to patch and repair any walls or areas we needed to access during the project, leaving your home as clean and undisturbed as possible. Throughout the process, our team will keep you informed and ensure that the final result meets your expectations.
Tired of piping problems? Contact us online or call (402) 623-6802 to request service today!
When You Call, You Can Expect To Receive:
Quick Response & Service

PlumbRite's 24/7 service allows for jobs to be completed quickly and efficiently, anytime, anywhere, and every day!

Upfront & Affordable Pricing

PlumbRite's service is always of the highest quality. But that doesn't mean we are the highest priced in the industry. We understand how frustrating it is to have a plumbing problem, so we want your wallet to be happy after we fix your issue!

Trusted Work That's Done Right

PlumbRite always does the job up to code and with perfect accuracy. We even have plumbers on staff that teach at vocational schools! This shows the pride we take in the work and making sure everything is done to the correct specifications!
Hear From Our Happy Customers
"Trust is big when it comes to plumbing. That's why we make it a point to be on time, explain repairs in detail, and have the utmost respect for our customers."
- Matt, Owner of PlumbRite
"Cody from Plumbrite was SO exceptional!"

Cody from Plumbrite was SO exceptional! He was able to come out tonight promptly for a clogged toilet. I was so impressed with his professionalism and friendly demeanor. Cody was able to fix the problem quickly. I would highly recommend Cody and PlumbRite.

- Lise R.

"I will recommend PlumbRite to my people! Thank you!!!"

Logan and Jeremy were fantastic! They provided excellent communication, service, all my questions, including looking all over town for 1 tiny part! I appreciate the high level of service received. I will recommend PlumbRite to my people! Thank you!!!

- Megan J.

"Friendly, kind, understanding, and knowledgeable about our issues."

Logan offered incredible Customer Service. Friendly, kind, understanding, and knowledgeable about our issues. Promptly completed repairs too. Definitely look forward to him continuing to service our future home needs.

- Shelley

"They show up on time and have excellent customer service."

We had an amazing experience with the Plumbrite team. They send you a text prior to the plumber coming out with a picture of who is coming and they also call ahead. They show up on time and have excellent customer service. Cody was particularly exceptional

- Bryant M.

"Will Definitely recommend PlumbRite to anybody looking for excellent quality."

Logan and Dale were great. incredible Customer Service. Friendly and knowledgeable about what we needed to be done. They gave us options and let us know about each one. They did what had to be done in a timely manner. Will Definitely recommend PlumbRite to

- Daisy R.

"If you need a plumber call PlumbRite!!! You won't be disappointed!"

Cody is great! Would very highly recommend him! We called on a Saturday morning, after a google search and reading some reviews, with a sewer backup in our basement. They answered right away and Cody was at our house in an hour. He talks you through everyt

- Amanda D.