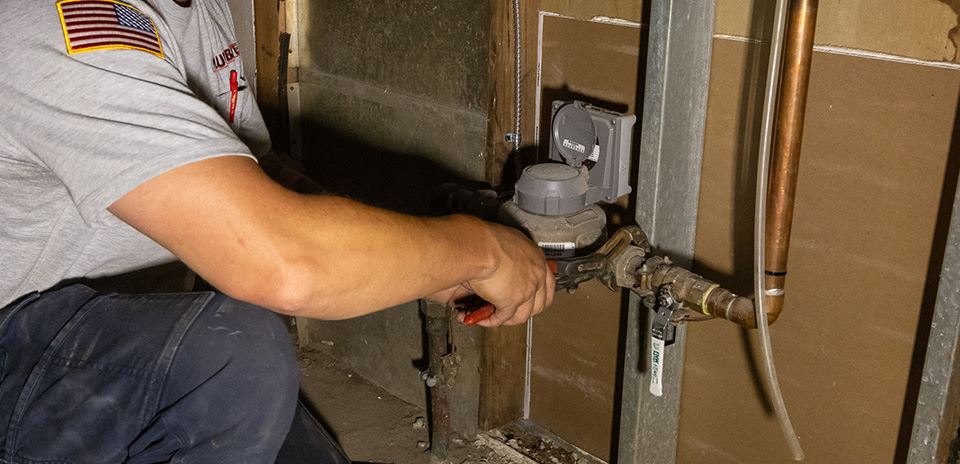 Water Line Cleaning and Repair in Omaha
Water Line Experts Serving Bellevue and La Vista
A water line is a crucial component of any home's plumbing system, serving as the primary conduit for supplying the property with fresh, clean water. This unseen infrastructure, buried underground, connects your house to the municipal water supply, ensuring a steady and reliable flow of water necessary for day-to-day activities such as drinking, cooking, bathing, and cleaning. Put simply, your water line needs regular inspections, cleaning, and timely repairs to keep your home running smoothly and avoid disruptions.
At PlumbRite, we make water line cleaning and repair in Omaha easy. Our licensed and experienced professionals are ready to conduct meticulous inspections, thorough cleanings, and quality repairs you can count on. We utilize advanced, non-invasive technology to diagnose and resolve water line issues, minimizing disruption to your property. Our robust preventive maintenance services reduce the likelihood of serious issues, extending the lifespan of your water line. We believe in transparent and affordable pricing, so you can expect detailed, upfront estimates with no surprise fees.
If you don't remember the last time your water line was professionally cleaned, it is probably time to get in touch with our professionals and request service. We offer a satisfaction guarantee and 24/7 emergency service, so call (402) 623-6802 or contact us online today!
The Importance of Regular Water Line Cleaning
Regular water line cleaning is essential for multiple reasons. First and foremost, it guarantees the delivery of clean, safe water for household use. Over time, water lines can become clogged with sediment, mineral deposits, and even roots from nearby trees. These obstructions can affect the quality of your home's water, turning it cloudy or discoloring it and potentially introducing harmful substances. Consistent professional cleaning by trusted technicians ensures that these obstructions are cleared, safeguarding the quality of your water supply.
In addition to improving water quality, regular water line cleaning serves to enhance the efficiency and longevity of your plumbing system. A buildup of obstructions can cause your water pressure to drop, putting additional strain on your pipes and potentially leading to cracks or leaks. By keeping your water lines clean, you can maintain optimal water pressure, minimizing the wear and tear on your system and giving it the support that it needs to last longer.
Finally, regular water line cleaning can help you catch problems early before they become bigger issues. During the cleaning process, our professionals will inspect your lines for any signs of damage or wear, allowing for timely repairs that can avert costly emergencies down the line.
The bottom line: Investing in regular water line cleaning will save you money, time, and stress in the long run. Our technicians usually recommend you schedule water line cleaning at least once a year. We can provide the water cleaning and repair in Omaha that you need to keep your plumbing system working great. Because we are plumbing experts, we can also assist with any other plumbing issues we encounter when cleaning your water lines.
Signs Your Water Lines Need Immediate Cleaning or Repairs
You should always act fast when you notice trouble with any part of your plumbing system. When you call us sooner rather than later, we can often diagnose and resolve issues before a more serious problem develops. For example, a small blockage, if not immediately cleared, could escalate into a major clog, disrupting your water supply.
You should reach out to PlumbRite if you notice any of the following problems:
Discoloration of Water. If your tap water is consistently discolored, it can be a sign of rust or sediment build-up in your water lines. An immediate cleaning or repair might be necessary to restore the water quality.
Low Water Pressure. A sudden drop in water pressure can indicate a blockage in your water line. This usually signifies that sediment or mineral deposits are obstructing the flow.
Noisy Pipes. Unusual sounds from your pipes, such as clanging, rattling, or whistling, can suggest a problem with your water line. This could potentially be a sign of a serious issue, such as a leak or crack.
Unusually High Water Bills. If your water bill has noticeably increased without a corresponding rise in usage, it could indicate a leak in your water line, necessitating immediate repair.
Frequent Clogs. Regularly experiencing clogs in your sinks or showers could be a sign of a larger obstruction in your main water line.
Unpleasant Odors or Taste. If your water has an unusual taste or smell, this could be due to bacterial contamination or pipe corrosion. This should be addressed promptly to avoid potential health risks.
No matter the issue, when you need water line cleaning and repair in Omaha, we have you covered. Early detection and treatment of these problems can save you significant time, effort, and money.
What Happens During Water Line Cleaning?
The first step in a typical water line cleaning visit involves a comprehensive inspection of the water line itself. Utilizing advanced technology like video inspection tools, our team will visually inspect the interior of your pipes, identifying any buildup, clogs, or signs of damage. This non-invasive procedure provides accurate and real-time images of the inside of your water line pipes, allowing us to detect any issues that might be affecting the water flow or quality.
Next, our professional technicians carry out the physical cleaning process. The cleaning method chosen depends on the extent and nature of the buildup. One common method we use is hydro jetting. This procedure involves blasting water at high pressure into the water line to remove any sediment or mineral deposits, effectively unclogging the line and restoring optimal water pressure. Our experts are careful to adjust the pressure to an appropriate level to avoid causing damage to your pipes.
In more severe cases where there's a significant buildup or invasive tree roots, we may use a process known as mechanical cleaning. This involves using specialized tools like augers and rooters to break up the obstruction and clear the line.
Following the physical cleaning, we carry out a final inspection. This step is crucial to ensuring that the cleaning was successful and that there are no lingering issues. It also provides an opportunity to identify any potential problems that may require repair or closer attention in the future.
When Does My Water Line Need to Be Replaced?
Water lines do not last forever, even when they are consistently cleaned. One of the key signs that it may be time to consider a replacement is an unending series of plumbing issues despite multiple professional repairs. In other words, if you are always dealing with low water pressure, discolored water, or frequent leaks despite our best efforts to repair your water line, it may be at the end of its service life, meaning getting a replacement is no longer optional. Replacing a deteriorating water line will end up being less expensive than paying for frequent repairs.
Additionally, if you are planning major home renovations or landscaping changes that could affect the location of the water line, it might be a good idea to consider replacing it. For instance, if you are adding a room to your house or installing a large tree or shrub in your yard, these changes could potentially damage the water line, causing it to leak or break. In such cases, replacing the water line during the renovation or landscaping work can prevent future issues and disruption. We can review your remodeling plans and advise whether this is necessary.
Choose our plumbing experts when you need water line cleaning and repair in Omaha. Call (402) 623-6802 or contact us online today!
When You Call, You Can Expect To Receive:
Quick Response & Service

PlumbRite's 24/7 service allows for jobs to be completed quickly and efficiently, anytime, anywhere, and every day!

Upfront & Affordable Pricing

PlumbRite's service is always of the highest quality. But that doesn't mean we are the highest priced in the industry. We understand how frustrating it is to have a plumbing problem, so we want your wallet to be happy after we fix your issue!

Trusted Work That's Done Right

PlumbRite always does the job up to code and with perfect accuracy. We even have plumbers on staff that teach at vocational schools! This shows the pride we take in the work and making sure everything is done to the correct specifications!
Hear From Our Happy Customers
"Trust is big when it comes to plumbing. That's why we make it a point to be on time, explain repairs in detail, and have the utmost respect for our customers."
- Matt, Owner of PlumbRite
"Cody from Plumbrite was SO exceptional!"

Cody from Plumbrite was SO exceptional! He was able to come out tonight promptly for a clogged toilet. I was so impressed with his professionalism and friendly demeanor. Cody was able to fix the problem quickly. I would highly recommend Cody and PlumbRite.

- Lise R.

"I will recommend PlumbRite to my people! Thank you!!!"

Logan and Jeremy were fantastic! They provided excellent communication, service, all my questions, including looking all over town for 1 tiny part! I appreciate the high level of service received. I will recommend PlumbRite to my people! Thank you!!!

- Megan J.

"Friendly, kind, understanding, and knowledgeable about our issues."

Logan offered incredible Customer Service. Friendly, kind, understanding, and knowledgeable about our issues. Promptly completed repairs too. Definitely look forward to him continuing to service our future home needs.

- Shelley

"They show up on time and have excellent customer service."

We had an amazing experience with the Plumbrite team. They send you a text prior to the plumber coming out with a picture of who is coming and they also call ahead. They show up on time and have excellent customer service. Cody was particularly exceptional

- Bryant M.

"Will Definitely recommend PlumbRite to anybody looking for excellent quality."

Logan and Dale were great. incredible Customer Service. Friendly and knowledgeable about what we needed to be done. They gave us options and let us know about each one. They did what had to be done in a timely manner. Will Definitely recommend PlumbRite to

- Daisy R.

"If you need a plumber call PlumbRite!!! You won't be disappointed!"

Cody is great! Would very highly recommend him! We called on a Saturday morning, after a google search and reading some reviews, with a sewer backup in our basement. They answered right away and Cody was at our house in an hour. He talks you through everyt

- Amanda D.