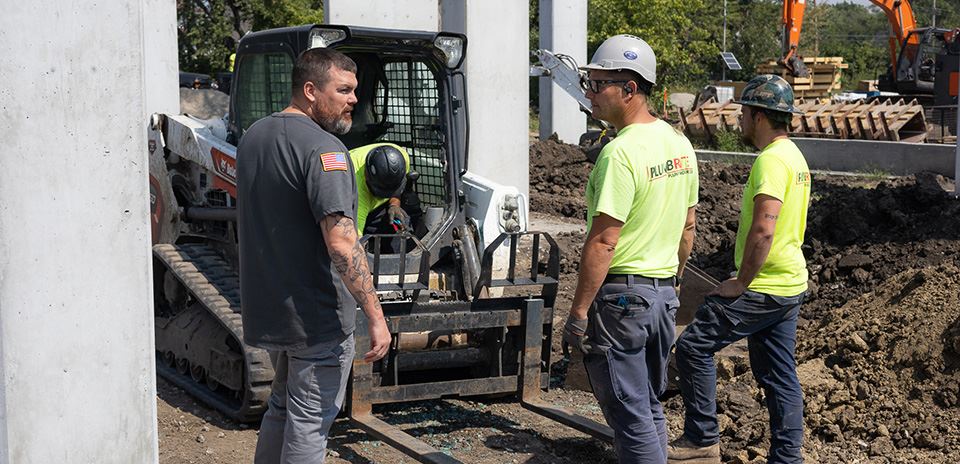 Commercial Plumbers in Omaha
Comprehensive Commercial Plumbing Services in Bellevue and La Vista
Reliable plumbing is essential to the smooth operation of any business. A dependable clean water supply is a necessity in workplaces of all kinds, not just for sanitation and hygiene but also for the proper functioning of various systems and appliances. Constant water disruptions can lead to unnecessary work stoppages and cause major inefficiencies, while serious plumbing issues may even result in temporary shutdowns, considerably impacting productivity and profitability. Even worse, unresolved plumbing problems can cause water damage and other serious consequences, leading to costly repairs and refurbishments.
When you choose PlumbRite, you will receive dedicated support from trusted commercial plumbers in Omaha who will prioritize your business needs, minimizing disruptions and ensuring optimal operational efficiency. We handle everything from new installations to repairs to remodels, and with over 20 years of experience serving businesses throughout our local community, we have earned a reputation of excellence. You can always expect quick, affordable, and correct services that meet and exceed your expectations.
Our team is available 24/7 for emergency repairs, so do not hesitate to call (402) 623-6802 or contact us online if your commercial property's plumbing needs immediate attention!
What We Can Do for Your Business's Plumbing
Whether you need a repair or a new installation, our plumbers approach commercial jobs with a high degree of professionalism and meticulous attention to detail. Each project begins with a thorough assessment of your needs. After gathering all the necessary information, we will review available options and recommend the best solution. We understand that time is of the essence in commercial settings, and we strive to complete our tasks swiftly and efficiently without ever compromising on quality. Our experts are also constantly trained to keep up with the latest advancements in the field, enabling us to take on even the most complex plumbing jobs with ease.
Our commercial plumbers in Omaha can assist you with:
Maintenance. Investing in routine maintenance can help proactively prevent expensive plumbing disasters and save your business money in the long run. Our team conducts regular inspections and preventive maintenance checks to identify and address minor issues before they escalate into major problems. This includes checking for leaks, ensuring proper drainage, routinely cleaning pipes, and inspecting essential components of your plumbing system like water heaters and sewer lines. We also provide tips and advice on best practices for maintaining your plumbing system.
Leak detection. Hidden leaks, if left undetected and untreated, can deal substantial damage to a commercial property. Over time, water seeping out can erode the building's structure, jeopardizing its safety and integrity. Prolonged exposure to moisture can also lead to the development of mold and mildew, posing health risks to your employees and visitors. Furthermore, hidden leaks can significantly inflate your utility bills, as water wastage over time can add up to a substantial cost. Our expert plumbers can quickly find even the toughest-to-detect leaks. Armed with the latest equipment and technology, we can accurately locate leaks, whether they are hidden behind walls or buried beneath concrete slabs. Then, we can complete prompt repairs that minimize disruption to your operations.
Repairs. We offer a full suite of repair services to address any plumbing issue your business might encounter. Whether you need a minor fixture repair or a major pipe replacement, our team is equipped with the knowledge, skills, and tools to handle it all. We understand the importance of resolving plumbing issues swiftly to prevent further damage and minimize disruption to your business operations. Our repair services cater to all aspects of commercial plumbing systems, including pipes, drains, faucets, toilets, sewer lines, and water heaters. We are also available day or night, so if any element of your commercial plumbing system needs urgent attention, we can arrive quickly and implement a fast fix designed to protect your commercial property.
Sewer lines. Sewer lines are a fundamental part of your commercial plumbing system, and any blockages, leaks, or damages can lead to serious consequences. Clogged or sluggish sewer lines can hamper your business operations. Our commercial plumbers in Omaha offer professional sewer line cleaning services to ensure smooth drainage. We are also experts in trenchless sewer repair – a modern, efficient, and non-invasive solution for dealing with damaged sewer lines. This state-of-the-art method allows us to fix problems with your sewer lines without the need for extensive digging. By using advanced technology, such as CCTV cameras for accurate diagnosis and hydro-jetting for effective cleaning, we are able to execute repairs with minimal disruption to your property and business operations. Our plumbers are highly skilled in both pipe lining and pipe bursting techniques, which can enable us to restore your sewer lines to optimal condition without the need for complete replacement.
Piping and repiping. We offer expert piping solutions customized to your business needs. The scope of our services extends to new installations, replacement of old or damaged pipes, as well as upgrades to accommodate expansion or increased capacity. We understand that each commercial property is unique, hence the need for tailored solutions. Our team is equipped to handle a range of piping materials - from traditional materials like copper and PVC to modern alternatives like PEX and stainless steel. We take into consideration the specific requirements of your business as well as any budgetary limitations when recommending the best piping solution. Repiping is sometimes necessary for older commercial buildings where the existing piping system is deteriorating, causing frequent leaks, low water pressure, or water discoloration. Our approach to repiping emphasizes efficiency, aiming to minimize disruption to your business operations. We strategically plan each stage of the project, ensuring that the work is completed swiftly without ever sacrificing quality or accuracy.
Water lines. Water lines are responsible for delivering fresh, clean water to your facility. If you are constructing a new commercial property or renovating an existing one, our experts can help with the design and installation of efficient water lines that meet all regulatory standards. We use high-quality, durable materials to ensure the longevity and reliability of your water supply. When repairs are needed, we leverage powerful diagnostic tools to accurately locate the problem, whether it is a leak, a blockage, or corrosion. We then carry out targeted repairs with minimal disruption to your operations, restoring your water flow swiftly and effectively. For older systems where repairs might not be sufficient, we offer complete water line replacement services. This might be a complex process, but our team makes it as seamless as possible, ensuring all work is done efficiently and within the agreed timeframe.
Water treatment. We also specialize in water treatment services to ensure the water supply at your commercial facility is safe, clean, and suitable for everyday use. The quality of your water is not just crucial for the health and safety of your employees and customers but also impacts the longevity of your plumbing systems and appliances. Our water treatment solutions include water softening to combat hard water issues, reverse osmosis systems for high-grade filtration, and UV water purifiers for eliminating bacteria and viruses. Our team of professionals will assess your water quality and suggest the most suitable treatment based on the results. Whether you need a simple filtration system or a comprehensive water purification solution, you can count on us to deliver an effective, efficient, and reliable service that caters to your specific needs.
Drain installation. A properly installed drain is essential for effective wastewater management, preventing issues such as water backup, flooding, and structural damage. We understand the complexities of commercial plumbing systems and cater our services to align with your property's layout and your business's operations. We use high-quality materials to ensure the durability and longevity of the installed drains, and we comply strictly with all local codes and regulations.
Drain cleaning. Drains tend to accumulate debris such as food particles, grease, hair, or soap residue, leading to slowdowns or blockages. Our expert team utilizes advanced techniques, such as hydro jetting, to effectively clear your drains, ensuring smooth and efficient waste flow. Regular drain cleaning can prevent future issues, reduce the risk of costly repairs, and ensure the longevity of your commercial plumbing system. Whether it's a routine clean or an emergency blockage, you can rely on us to provide prompt, professional support.
Outdoor plumbing. Outdoor plumbing fixtures are an invaluable part of your commercial property, from irrigation systems and outdoor sinks to fountains and hydrants. Our commercial plumbers in Omaha are well-versed in the installation, repair, and maintenance of various outdoor plumbing systems. Whether you are looking to install a new garden irrigation system, fix a leaky outdoor faucet, or require regular maintenance for your outdoor plumbing fixtures, our team is equipped to handle it all. We use top-of-the-line materials and follow best practices to ensure durability and performance.
Remodels. Remodeling a commercial property's plumbing can be a complex undertaking, but our experts are prepared to handle projects of all sizes, ensuring that your plumbing system functions perfectly with your new design and layout. Whether you are remodeling a restaurant kitchen, renovating your office bathrooms, or overhauling a retail space, we can help with everything from relocating fixtures and installing new pipes to upgrading your water heater and installing state-of-the-art water-saving devices. Our team collaborates with you every step of the way, understanding your specific needs and addressing any challenges that may arise over the course of the project.
New installations. We offer expert new installation services tailored to your specific needs. We cover all aspects of commercial plumbing installations and can assist with everything from water lines, sewer lines, gas lines, and outdoor plumbing fixtures to new bathrooms, kitchens, and drainage systems. Our plumbers are proficient in working with a wide array of materials and plumbing technologies, ensuring the end result is both durable and efficient. We strictly adhere to local building codes and regulations and will make every effort to minimize disruption to your business operations during the installation process.
And more!
Over 20 Years of Experience Serving Local Businesses
With over two decades of serving local businesses, we have established itself as a trusted partner in the commercial plumbing sector. Our longevity in the business stands as a testament to our commitment to quality, professionalism, and customer satisfaction. Over the years, we've had the privilege of providing our services to a multitude of businesses, each with its unique needs and challenges. This has enriched our experience and honed our skills, enabling us to deliver tailored solutions that meet the specific requirements of each client. Choosing PlumbRite means partnering with a seasoned team that is not only familiar with the nuts and bolts of commercial plumbing but is also invested in your success.
Contact us online or call (402) 623-6802 to discuss your needs with our commercial plumbers in Omaha today!
When You Call, You Can Expect To Receive:
Quick Response & Service

PlumbRite's 24/7 service allows for jobs to be completed quickly and efficiently, anytime, anywhere, and every day!

Upfront & Affordable Pricing

PlumbRite's service is always of the highest quality. But that doesn't mean we are the highest priced in the industry. We understand how frustrating it is to have a plumbing problem, so we want your wallet to be happy after we fix your issue!

Trusted Work That's Done Right

PlumbRite always does the job up to code and with perfect accuracy. We even have plumbers on staff that teach at vocational schools! This shows the pride we take in the work and making sure everything is done to the correct specifications!
Hear From Our Happy Customers
"Trust is big when it comes to plumbing. That's why we make it a point to be on time, explain repairs in detail, and have the utmost respect for our customers."
- Matt, Owner of PlumbRite
"Cody from Plumbrite was SO exceptional!"

Cody from Plumbrite was SO exceptional! He was able to come out tonight promptly for a clogged toilet. I was so impressed with his professionalism and friendly demeanor. Cody was able to fix the problem quickly. I would highly recommend Cody and PlumbRite.

- Lise R.

"I will recommend PlumbRite to my people! Thank you!!!"

Logan and Jeremy were fantastic! They provided excellent communication, service, all my questions, including looking all over town for 1 tiny part! I appreciate the high level of service received. I will recommend PlumbRite to my people! Thank you!!!

- Megan J.

"Friendly, kind, understanding, and knowledgeable about our issues."

Logan offered incredible Customer Service. Friendly, kind, understanding, and knowledgeable about our issues. Promptly completed repairs too. Definitely look forward to him continuing to service our future home needs.

- Shelley

"They show up on time and have excellent customer service."

We had an amazing experience with the Plumbrite team. They send you a text prior to the plumber coming out with a picture of who is coming and they also call ahead. They show up on time and have excellent customer service. Cody was particularly exceptional

- Bryant M.

"Will Definitely recommend PlumbRite to anybody looking for excellent quality."

Logan and Dale were great. incredible Customer Service. Friendly and knowledgeable about what we needed to be done. They gave us options and let us know about each one. They did what had to be done in a timely manner. Will Definitely recommend PlumbRite to

- Daisy R.

"If you need a plumber call PlumbRite!!! You won't be disappointed!"

Cody is great! Would very highly recommend him! We called on a Saturday morning, after a google search and reading some reviews, with a sewer backup in our basement. They answered right away and Cody was at our house in an hour. He talks you through everyt

- Amanda D.