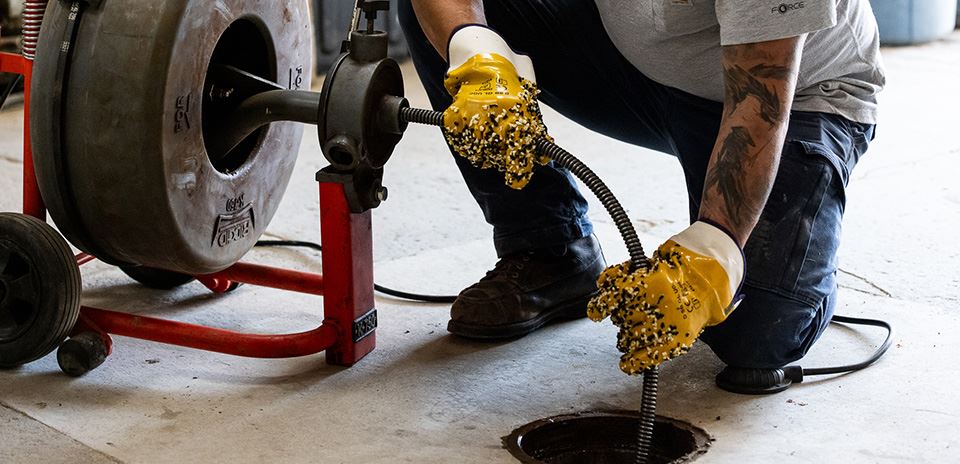 Sewer Line Cleaning and Repair in Omaha
Trenchless Sewer Repair Experts Serving Bellevue and La Vista
A sewer line is an essential component of your home's plumbing system, responsible for transporting wastewater from your home to the city sewer system or a septic tank. This sometimes-overlooked aspect of home maintenance ensures sanitation and cleanliness, keeping your home hygienic and disease-free. Scheduling regular cleanings of your sewer line is an essential part of plumbing maintenance.
When it comes to sewer line cleaning and repair in Omaha, PlumbRite is always the right choice. Our services are fast, affordable, and done right every time, whether you need routine cleaning or more comprehensive repairs or replacements. Our highly trained technicians are ready to take on any challenge and are familiar with many types of proven techniques for completing repairs, including trenchless sewer repairs. Our services are not only efficient but also environmentally friendly. We believe in protecting your home and the environment, so we use methods that are safe and sustainable, avoiding any harmful chemicals that could damage your sewer lines or the environment.
Sewer line issues can crop up unexpectedly, which is why we offer 24/7 emergency support to handle any urgent sewer line problems. We also offer a satisfaction guarantee, so call (402) 623-6802 or contact us online today!
How Does My Sewer Line Work and Why Does It Need Regular Cleaning?
Understanding how your sewer line works is integral to understanding why regular sewer line cleaning and repair in Omaha is so important. Your sewer line is essentially a pipe that carries wastewater from your home's interior plumbing system to the city sewer system or your septic tank. The wastewater includes everything from used water from your sinks and showers to the waste flushed down your toilets. As this water travels through the sewer line, it carries along with it any solid waste, which can adhere to the pipe walls and cause buildup over time.
The sewer line operates primarily thanks to gravity. This means that the pipe is typically sloped in such a manner that the waste and water move downward through sheer physics. This downward slope is carefully calculated by plumbers during the installation to ensure the efficient flow of wastewater. If this slope is compromised due to ground shifts or improper installation, the flow of wastewater can be hindered, leading to blockages and backups.
Regular cleaning of the sewer line is essential to maintaining its efficiency and longevity. Accumulating debris like food waste, grease, and hair build up in the sewer line can eventually create obstructions within the pipe. If left unchecked, these obstructions can lead to blockages, preventing the smooth flow of wastewater and potentially causing it to back up into your home. This not only can lead to unsanitary conditions and property damage, but it can also put a strain on your sewer line, shortening its lifespan.
Beyond potential blockages, regular cleaning can also help to mitigate the effects of tree root invasion, a common issue impacting sewer lines. Tree roots are naturally drawn to the moisture in sewer lines and can infiltrate the pipes, causing serious damage. Routine cleaning can help keep these issues at bay, ensuring your sewer line continues to function optimally.
How Often Does My Sewer Line Need Professional Cleaning?
The frequency of how often you will need professional sewer line cleaning can depend on a variety of factors, including the age of your home, the type of plumbing system in place, the use of your plumbing, and the presence of trees near your sewer line. For most homes, we generally recommend a cleaning visit at least once every 18 to 22 months.
Regular professional cleaning can help identify potential issues before they become major problems, ensuring that your sewer line continues to function optimally and efficiently. This frequency can prevent the buildup of debris and tree root invasions, two common issues that can cause significant damage and costly repairs if left unchecked.
If your home is older or if your plumbing system is made of older materials, you may need to have your sewer line cleaned more frequently. Some of these materials can degrade over time, causing more frequent blockages and necessitating more regular cleanings. In these cases, we may recommend annual or even semi-annual cleanings.
Additionally, the presence of trees near your sewer line can also influence the frequency of cleanings. Tree roots are attracted to the moisture in sewer lines and can infiltrate and damage your pipes. If you have a lot of trees near your sewer line, you may need to consider more frequent cleanings to mitigate the potential damage caused by root invasions.
Committing to the right cleaning schedule can help you avoid problems and save money in the long run. Our experts at PlumbRite can assess your unique circumstances and recommend a tailored cleaning schedule.
Signs Your Sewer Line Needs Repairs
Potential problems with your sewer line should be immediately addressed by a professional, which is why it is important to know what warning signs to watch out for. Acting sooner rather than later can help prevent minor issues from escalating into costly emergencies.
Do not wait to schedule sewer line cleaning and repair in Omaha if you spot any of the following red flags:
Frequent Drain Blockages. If you notice that your drains are blocking up more frequently than usual, this could be a sign of a larger issue with your sewer line.
Unpleasant Odors. Foul odors emitting from your drains or around your property could indicate a broken sewer line.
Slow Draining. If your sinks, showers, or bathtubs are draining more slowly than usual, it could suggest a problem with your sewer line.
Sewage Backups. Frequent sewage backups are a clear sign of a potential issue with your sewer line.
Lush Green Patches in Your Yard. If certain areas of your grass appear greener and more lush than other sections, it could be a sign of a leaking sewer line beneath the affected area.
Indentations in Your Lawn. A sagging sewer line can cause indentations to appear in your lawn.
Structural Damage to Your Home. Cracks in your home's foundation, walls, or floors could be a sign of a serious issue with your sewer line.
What Is Trenchless Sewer Repair?
Trenchless sewer repair is an innovative approach to addressing issues with your sewer line without the need for extensive digging or disruption to your property. Traditional sewer repair methods often involve digging a trench along the length of the sewer line, which can be both time-consuming and damaging to your landscaping. Trenchless sewer repair, on the other hand, only requires a couple of small access points, minimizing the impact on your property while still effectively resolving any sewer line issues.
One of the main benefits of trenchless sewer repair is its efficiency. The entire process can often be completed much faster than traditional methods, reducing the inconvenience and disruption to your daily routine. Furthermore, because it requires less manual labor and equipment, it can often be a more cost-effective option.
Trenchless sewer repair begins with a camera inspection, where we thread a small, high-tech camera through your sewer line to identify the issue and its location. Once we have diagnosed and pinpointed the problem, we will determine which of the two main repair methods is the best path forward.
The first method is pipe lining. This process involves inserting a flexible, resin-coated tube into the existing pipe. Once in place, we inflate the tube, causing the resin to adhere to the inner walls of the existing pipe, effectively creating a new pipe within the old one. Once the resin cures, it creates a sturdy, seamless pipe that can last for decades.
The second method is pipe bursting, which is typically used when the existing pipe is too damaged for lining. In this method, we guide a new pipe into the old one using a bursting head that fractures the old pipe and pushes it outward. We then securely fit the new pipe into place.
Both approaches offer durable, long-lasting solutions while minimizing the need for excavation. Our team is made up of trenchless sewer repair experts who will work to make this process as efficient and affordable as possible.
When you need sewer line cleaning and repair in Omaha, call (402) 623-6802 or contact us online!
When You Call, You Can Expect To Receive:
Quick Response & Service

PlumbRite's 24/7 service allows for jobs to be completed quickly and efficiently, anytime, anywhere, and every day!

Upfront & Affordable Pricing

PlumbRite's service is always of the highest quality. But that doesn't mean we are the highest priced in the industry. We understand how frustrating it is to have a plumbing problem, so we want your wallet to be happy after we fix your issue!

Trusted Work That's Done Right

PlumbRite always does the job up to code and with perfect accuracy. We even have plumbers on staff that teach at vocational schools! This shows the pride we take in the work and making sure everything is done to the correct specifications!
Hear From Our Happy Customers
"Trust is big when it comes to plumbing. That's why we make it a point to be on time, explain repairs in detail, and have the utmost respect for our customers."
- Matt, Owner of PlumbRite
"Cody from Plumbrite was SO exceptional!"

Cody from Plumbrite was SO exceptional! He was able to come out tonight promptly for a clogged toilet. I was so impressed with his professionalism and friendly demeanor. Cody was able to fix the problem quickly. I would highly recommend Cody and PlumbRite.

- Lise R.

"I will recommend PlumbRite to my people! Thank you!!!"

Logan and Jeremy were fantastic! They provided excellent communication, service, all my questions, including looking all over town for 1 tiny part! I appreciate the high level of service received. I will recommend PlumbRite to my people! Thank you!!!

- Megan J.

"Friendly, kind, understanding, and knowledgeable about our issues."

Logan offered incredible Customer Service. Friendly, kind, understanding, and knowledgeable about our issues. Promptly completed repairs too. Definitely look forward to him continuing to service our future home needs.

- Shelley

"They show up on time and have excellent customer service."

We had an amazing experience with the Plumbrite team. They send you a text prior to the plumber coming out with a picture of who is coming and they also call ahead. They show up on time and have excellent customer service. Cody was particularly exceptional

- Bryant M.

"Will Definitely recommend PlumbRite to anybody looking for excellent quality."

Logan and Dale were great. incredible Customer Service. Friendly and knowledgeable about what we needed to be done. They gave us options and let us know about each one. They did what had to be done in a timely manner. Will Definitely recommend PlumbRite to

- Daisy R.

"If you need a plumber call PlumbRite!!! You won't be disappointed!"

Cody is great! Would very highly recommend him! We called on a Saturday morning, after a google search and reading some reviews, with a sewer backup in our basement. They answered right away and Cody was at our house in an hour. He talks you through everyt

- Amanda D.