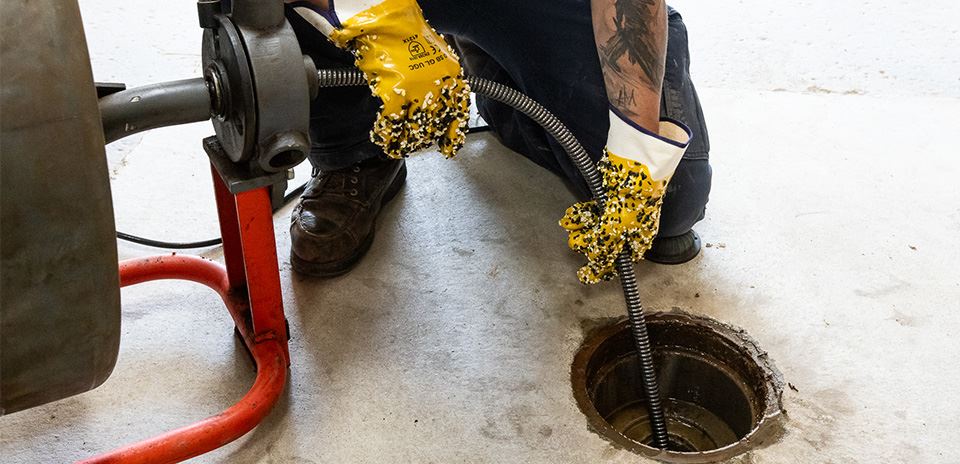 Drain Cleaning in Omaha
Dependable Drain Cleaning Services in Bellevue and La Vista
Drains are installed in kitchens, bathrooms, and even laundry rooms to remove wastewater from the home efficiently. It is easy to take your home's drains for granted as long as they function as intended. However, hair, soap, food particles, and other debris can accumulate in your drains over time, leading to clogs that can cause your sink or shower to drain slowly or not at all. By investing in regular professional drain cleaning, you can ensure smooth and efficient water flow.
Whether you are already dealing with clogs or are looking to proactively keep your drains clear of blockages, choosing PlumbRite is always the right choice. Our drain cleaning services in Omaha are affordable and thorough. No matter the scope or stubbornness of the blockage, our highly experienced plumbers are ready to tackle any challenge. Armed with powerful hydro-jetting technology and high-resolution drain cameras, we can effectively remove the toughest obstructions and offer a detailed view of your drains' condition. Plus, with our satisfaction guarantee, you can trust we will get the job done right the first time!
Do not ignore slow drainage or a consistent clog! Request service by calling (402) 623-6802 or contacting us online today.
Avoid Using Chemical Drain Cleaners!
While it may seem convenient to use off-the-shelf chemical drain cleaners as a quick fix to your clogged drain problems, these products often do more harm than good. Chemical drain cleaners, though effective at dissolving certain types of clogs, are highly corrosive, posing potential safety risks and potential damage to your plumbing. They can cause burns if they come into contact with skin, and the toxic fumes they emit can be harmful if inhaled. Moreover, the high toxicity of these products can pose a threat to the environment, contaminating water sources when disposed of improperly. Over time, repeated use of harsh chemical cleaners can damage your pipes, leading to costly repairs or replacements. Instead, turn to our drain cleaning services in Omaha for a safe and eco-friendly solution that is also likely more cost-effective than you would expect.
Signs Your Home Needs Drain Cleaning
Putting off regular drain cleaning can lead to a variety of problems that extend beyond simple inconvenience. Over time, minor clogs can develop into severe blockages that impede the functionality of your entire plumbing system. These blockages can also lead to increased pressure in your pipes, which may cause them to burst or leak, resulting in costly water damage to your property. It is always smart to get in touch with professional plumbers as soon as notice problems with your drains. Remember, addressing warning signs promptly can save you from more severe plumbing issues down the line.
You should schedule professional drain cleaning if you notice any of the following problems:
Slow Drains. This is often the first sign of a clogged drain. If your sink or tub is taking longer than usual to drain, it may indicate a blockage in your pipes that needs immediate attention.
Frequent Clogs. If you are constantly dealing with clogged drains, it is a clear indication that there is a bigger issue at hand. Persistent clogs can mean there is a significant blockage deeper in your plumbing system.
Bad Odors. Unpleasant smells coming from your drains could signify a buildup of waste or a serious blockage. If the smell persists, it is time to call in the professionals.
Gurgling Sounds. Strange noises from your drains, like gurgling or bubbling, can suggest a blockage is preventing water from flowing smoothly in your pipes.
Multiple Clogged Drains. If more than one drain in your home is clogged, it could indicate a problem with your main sewer line.
Water Backup. This is a serious sign that you have a significant blockage in your system. Water backing up out of drains, toilets, or sinks requires immediate professional attention.
Even in the absence of these and other pressing issues, regular maintenance of your drainage system is crucial to prevent future problems. We generally recommend scheduling professional drain cleaning services at least once a year. This allows our experts to identify and resolve minor issues before they escalate into major problems that could necessitate expensive repairs or replacements. Regular cleaning also ensures efficient water flow, prevents foul odors, and extends the lifespan of your plumbing system. So, do not wait for a clog to disrupt your routine. Invest in preventative maintenance with PlumbRite's professional drain cleaning services and enjoy the peace of mind that comes with an optimally functioning drainage system.
What Does Drain Cleaning Involve?
Our drain cleaning services in Omaha involve a comprehensive process with several key steps to ensure the smooth functioning of your plumbing system. It starts with a detailed inspection, where our professional plumbers use high-resolution drain cameras to accurately assess the condition of your drains and identify the location and nature of the clog. This non-invasive procedure gives us a clear picture of what we ae dealing with, giving us the information we need to determine the most effective solution.
Once the problem has been identified, we employ tried-and-tested methods to remove the blockage. One such method is hydro jetting, a safe, eco-friendly, and highly effective drain-cleaning technique. This process uses a high-pressure water jet to dislodge and flush out stubborn blockages, leaving your pipes clean and clear.
In some cases, we may use a drain snake or auger, a flexible rod that is pushed down the drain to break up the clog. This method is typically used for less severe blockages that are relatively close to the surface.
After the blockage has been removed, we conduct a final inspection to ensure the drain is completely clear and functioning properly. In addition, we provide you with practical advice and tips on how to maintain your drains and prevent future clogs. We strive to not only fix your current plumbing issues but also help you prevent future problems.
We are prepared to handle all of your plumbing needs, including drain installation. Contact us online or call (402) 623-6802 to request service today!
When You Call, You Can Expect To Receive:
Quick Response & Service

PlumbRite's 24/7 service allows for jobs to be completed quickly and efficiently, anytime, anywhere, and every day!

Upfront & Affordable Pricing

PlumbRite's service is always of the highest quality. But that doesn't mean we are the highest priced in the industry. We understand how frustrating it is to have a plumbing problem, so we want your wallet to be happy after we fix your issue!

Trusted Work That's Done Right

PlumbRite always does the job up to code and with perfect accuracy. We even have plumbers on staff that teach at vocational schools! This shows the pride we take in the work and making sure everything is done to the correct specifications!
Hear From Our Happy Customers
"Trust is big when it comes to plumbing. That's why we make it a point to be on time, explain repairs in detail, and have the utmost respect for our customers."
- Matt, Owner of PlumbRite
"Cody from Plumbrite was SO exceptional!"

Cody from Plumbrite was SO exceptional! He was able to come out tonight promptly for a clogged toilet. I was so impressed with his professionalism and friendly demeanor. Cody was able to fix the problem quickly. I would highly recommend Cody and PlumbRite.

- Lise R.

"I will recommend PlumbRite to my people! Thank you!!!"

Logan and Jeremy were fantastic! They provided excellent communication, service, all my questions, including looking all over town for 1 tiny part! I appreciate the high level of service received. I will recommend PlumbRite to my people! Thank you!!!

- Megan J.

"Friendly, kind, understanding, and knowledgeable about our issues."

Logan offered incredible Customer Service. Friendly, kind, understanding, and knowledgeable about our issues. Promptly completed repairs too. Definitely look forward to him continuing to service our future home needs.

- Shelley

"They show up on time and have excellent customer service."

We had an amazing experience with the Plumbrite team. They send you a text prior to the plumber coming out with a picture of who is coming and they also call ahead. They show up on time and have excellent customer service. Cody was particularly exceptional

- Bryant M.

"Will Definitely recommend PlumbRite to anybody looking for excellent quality."

Logan and Dale were great. incredible Customer Service. Friendly and knowledgeable about what we needed to be done. They gave us options and let us know about each one. They did what had to be done in a timely manner. Will Definitely recommend PlumbRite to

- Daisy R.

"If you need a plumber call PlumbRite!!! You won't be disappointed!"

Cody is great! Would very highly recommend him! We called on a Saturday morning, after a google search and reading some reviews, with a sewer backup in our basement. They answered right away and Cody was at our house in an hour. He talks you through everyt

- Amanda D.