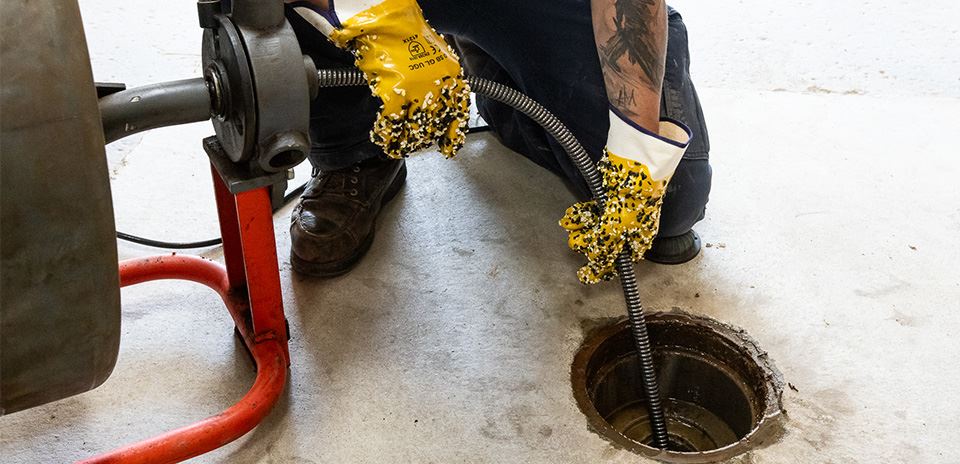 Drain Installation in Omaha
Trusted Drain Installation Experts Serving Bellevue and La Vista
Drains serve a pivotal role in the plumbing system of any home or building, effectively controlling the flow of waste and water out of the premises. They play an integral part in maintaining hygiene and cleanliness, facilitating the safe and efficient disposal of wastewater from various sources like showers, sinks, washing machines, and toilets. Drains also prevent the backflow of sewage and the resultant unpleasant odors into living spaces. Put simply, well-functioning drains are not something you can do without.
If you are constantly dealing with clogs or slow drainage, your existing drain may be past its prime. Our expert plumbers can diagnose the extent of the issue and advise whether you need drain installation in Omaha. Our installation services at PlumbRite are fast, affordable, and done right the first time, so you can always turn to our skilled professionals to restore the flow.
We offer a satisfaction guarantee, so do not hesitate to call (402) 623-6802 or contact us online if you think it may be time to replace one or more of your drains!
How Long Will My Drainage System Last?
The lifespan of a typical drain can vary greatly depending on its material, usage, and consistency of maintenance. On average, though, you can expect a well-maintained drain to last anywhere from 20 to 50 years. Some materials can last even longer if they are properly taken care of. It is crucial to remember that regular maintenance can extend the life of any type of drain, while neglect can lead to the need for early replacement. At PlumbRite, our experts can help you assess the condition of your drainage system and recommend maintenance or replacement as necessary.
What Are the Signs I Need a New Drain?
The timely replacement of drains that are no longer reliable is essential for maintaining the health, safety, and comfort of your home. Neglecting the replacement of an outdated or deteriorating drain can have serious consequences.
First, ignoring a drain that needs to be replaced can lead to significant water damage to your property, as leaks can go unnoticed until substantial harm has been done. This can not only compromise the structural integrity of your building but also lead to costly repairs. Second, a faulty drain can result in health hazards, as wastewater contains harmful bacteria and pathogens. If your drain is not functioning optimally, it can lead to the backflow of wastewater, thus contaminating your living spaces. There is also the risk of foul odors permeating your home, creating an uncomfortable living environment. Finally, an old drain that has not been replaced in time can lead to larger, more complicated issues, such as sewer backups or a complete breakdown of your plumbing system. These situations are not only inconvenient but also notably more expensive to rectify.
The bottom line: Do not put off replacing a deteriorating drain. Recognizing the signs that you may need a new drain can help you prevent significant damage and costly repairs or replacements down the road.
You may need new drain installation in Omaha if you are dealing with:
Recurring Clogs. While an occasional clog can be fixed relatively easily, frequent blockages could signal a bigger issue. Persistent clogs might indicate a structural problem with your drain, such as cracks or collapsed sections that catch debris and obstruct the flow of water.
Slow Drainage. Slow-draining sinks, tubs, or showers could point to a problem with your drain. If the problem persists despite your efforts to clear it, you might need a new drain.
Unpleasant Odor. Persistent foul odors emanating from your drain can indicate a serious problem. This could be due to sewage backflow or rotting food and other debris caught in the drain.
Water Backup. If water backs up in your sink, tub, or toilet when you run the dishwasher or washing machine, it might indicate a drain issue. This could be a sign your drain is not effectively dealing with the excess water flow.
Water Stains in the Basement. Water stains or damage in the basement can be a sign of a defective main sewer line. This is often accompanied by mold growth and musty odors.
Changes in Your Lawn. If your lawn has lush green patches or soggy spots, it could be a sign of a leaking sewer line. The added nutrients from the leak cause the grass in the area to become unusually green and lush.
When Should I Replace a Drain Instead of Repairing It?
While a repair may temporarily solve an issue with your drain, there are several reasons why replacement can often be the more beneficial and cost-effective option in the long run.
Firstly, one needs to consider the age and condition of the existing drain. If your drain is old, has outlived its expected lifespan, or is made from outdated materials, you might find yourself facing frequent issues that require repairs. In such cases, the cumulative costs of these ongoing repairs can end up being higher than that of a full replacement.
Secondly, if your drain is severely damaged or collapsed, a repair might not be feasible or effective. For instance, if tree roots have intruded into your pipes or if the pipes are cracked, a simple repair might not suffice to fully resolve the issue.
Thirdly, if your current drain is not compliant with modern safety and health regulations, replacing it would be the best way to ensure that your home's plumbing system is up to code.
Finally, replacing a drain gives you the opportunity to upgrade to a system that performs better and lasts longer. Modern drains are made from durable materials designed to withstand wear and tear, resist corrosion, and minimize the risk of clogs and blockages.
In conclusion, while a repair might seem like the cheaper option in the short term, a replacement could be the most economical and hassle-free solution in the long term. At PlumbRite, our professionals can evaluate your unique situation and advise whether drain repair or replacement is the best course of action.
How We Install New Drains
Replacing a drain is a comprehensive process that involves several key steps that should only be completed by a professional plumber. Our drain installation services in Omaha are meticulous and carefully completed to ensure your replacement drain is installed correctly and functions optimally.
Our first step in the drain replacement process involves an initial assessment. One of our trained technicians will inspect your current drain system to ascertain the extent of the damage or deterioration. During this stage, we will identify the location and severity of the problem before deciding whether a complete or partial replacement is necessary. We will always be honest and transparent when advising whether a replacement is recommended or whether a repair will suffice.
The next step involves preparing for the new installation. This involves removing the old drain system, which could be a complex task depending on the layout and design of your current plumbing framework. Our expert team is trained to carry out this task with the utmost precision, ensuring minimal disruption to your property and daily routine.
Then, we carry out the actual installation of the new drain. We only use high-quality materials that are consistent with the latest industry standards. The installation process also includes sealing and connecting the drain to the existing plumbing system. Our technicians are stringent about following best practices to ensure your new drains are leak-proof and durable.
Lastly, we conduct rigorous testing to ensure the new drain is functioning optimally. This includes checking for leaks and assessing the flow rate of the drain. Our work is only done when you are completely satisfied with the performance of your new drain.
Need new drain installation in Omaha? Call (402) 623-6802 or contact us online today!
When You Call, You Can Expect To Receive:
Quick Response & Service

PlumbRite's 24/7 service allows for jobs to be completed quickly and efficiently, anytime, anywhere, and every day!

Upfront & Affordable Pricing

PlumbRite's service is always of the highest quality. But that doesn't mean we are the highest priced in the industry. We understand how frustrating it is to have a plumbing problem, so we want your wallet to be happy after we fix your issue!

Trusted Work That's Done Right

PlumbRite always does the job up to code and with perfect accuracy. We even have plumbers on staff that teach at vocational schools! This shows the pride we take in the work and making sure everything is done to the correct specifications!
Hear From Our Happy Customers
"Trust is big when it comes to plumbing. That's why we make it a point to be on time, explain repairs in detail, and have the utmost respect for our customers."
- Matt, Owner of PlumbRite
"Cody from Plumbrite was SO exceptional!"

Cody from Plumbrite was SO exceptional! He was able to come out tonight promptly for a clogged toilet. I was so impressed with his professionalism and friendly demeanor. Cody was able to fix the problem quickly. I would highly recommend Cody and PlumbRite.

- Lise R.

"I will recommend PlumbRite to my people! Thank you!!!"

Logan and Jeremy were fantastic! They provided excellent communication, service, all my questions, including looking all over town for 1 tiny part! I appreciate the high level of service received. I will recommend PlumbRite to my people! Thank you!!!

- Megan J.

"Friendly, kind, understanding, and knowledgeable about our issues."

Logan offered incredible Customer Service. Friendly, kind, understanding, and knowledgeable about our issues. Promptly completed repairs too. Definitely look forward to him continuing to service our future home needs.

- Shelley

"They show up on time and have excellent customer service."

We had an amazing experience with the Plumbrite team. They send you a text prior to the plumber coming out with a picture of who is coming and they also call ahead. They show up on time and have excellent customer service. Cody was particularly exceptional

- Bryant M.

"Will Definitely recommend PlumbRite to anybody looking for excellent quality."

Logan and Dale were great. incredible Customer Service. Friendly and knowledgeable about what we needed to be done. They gave us options and let us know about each one. They did what had to be done in a timely manner. Will Definitely recommend PlumbRite to

- Daisy R.

"If you need a plumber call PlumbRite!!! You won't be disappointed!"

Cody is great! Would very highly recommend him! We called on a Saturday morning, after a google search and reading some reviews, with a sewer backup in our basement. They answered right away and Cody was at our house in an hour. He talks you through everyt

- Amanda D.